How the Airline Industry Will Return to Normal: Say Yes To Travel
On this episode of 
Say Yes To Travel
, host 
Sarah Dandashy
sat down with Chris Faver, an operations manager at a major airline based out of San Diego, to break down what they are seeing in the airline industry amid the coronavirus pandemic.
Numbers are down over 70%. This is a very eerie time, as the whole travel industry is coming to a complete stop. But what can we expect in the future? Higher cleaning standards, that's for sure. In the meantime, if you have extra money, take advantage of cheap prices and flexible cancellation policies.
Faver predicts that it will take some time getting out of this and about 18 to 24 months to see numbers where they were before. People will either come out of this needing to travel or come out of this with a more cautious attitude. Ultimately, there is so much uncertainty, it is hard to pinpoint.
There could also be a shift in mindset when it comes to business travel, with more businesses potentially opting for virtual meetings.
Another big question is how the industry will return to normal on a global level, since all countries will come out of the pandemic on a different timeline.
With everything being cancelled, from big concerts to sporting events, there are few reasons to travel right now other than to visit family or if you are a medical professional looking to go to other markets to help.
Generally, airlines average $10-12 billion per month. So, with percentages dipping by as much as 80-90%, we can get a picture of the immense numbers we are dealing with.
Companies that hold off on laying off people will be in a better position when they come out of this, as they will still have employees to go back into work.
Look for record deals as we come out of this, but ultimately keep personal finances in mind, and expect business travel to come back first, then leisure travel.
Latest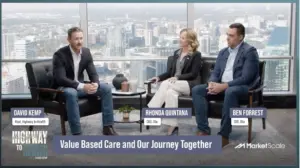 December 7, 2023
As of recent times, the healthcare industry has been progressively shifting towards value-based care, a model that emphasizes patient outcomes over the quantity of services delivered. This transition represents a significant shift that promises to enhance patient experiences and outcomes while controlling healthcare costs. With a growing emphasis on this approach, especially over the […]
Read More