Applications of Ribbon's IT and Optical Network: Oil & Gas and Rail Industries with Sam Lisle
Critical infrastructure operators are facing new and emerging challenges regarding networking. For many, that means transitioning from legacy systems, providing greater security, and digitization. Those in the Oil & Gas and Rail industries are keenly aware of these issues. Providing insight on how these industries are evolving and the solutions available is Sam Lisle, Ribbon Communications' Director of Business Development.
"Operators in these industries have very unique networking needs. For many reasons, they build their own networks. It's not a purely economic motivation. It's also because they are risk-averse and need two distinct networks—a traditional IT one and an OT, or operational technology, network. Those OTs require highly specialized solutions," Lisle explained.
These OT networks must be guaranteed, assured, and secure. Outages or problems have grave consequences, including the need to protect human life.
Regarding the rail industry's transformations, companies are using communication-based rail control systems. "It's a big investment but increases track capacity and keeps people safe. Data is continuously collected about speed and location, requiring a highly deterministic type of networking," Lisle said.
In Oil & Gas, the industry relies greatly on aging equipment to control and monitor compressors, valves, and pumps. Lisle noted, "They need IP network modernization. A new approach is laying fiber along pipelines to detect animal or people that get too close."
Ribbon supports integrators that work with end-users in these industries in a partnership. Their capabilities in this realm offer comprehensive solutions. "We support legacy systems and let operators move at their own pace. We also provide a very guaranteed and predictable performance with encryption. Our breadth of capabilities is also very easy to manage, not requiring long training," Lisle shared.
Learn more about Ribbon's solutions by watching the discussion.
Follow us on social media for the latest updates in B2B!
Twitter – @MarketScale
Facebook – facebook.com/marketscale
LinkedIn – linkedin.com/company/marketscale
Latest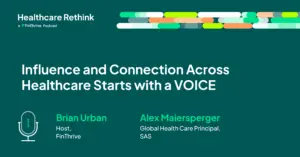 September 29, 2023
In the latest episode of the Healthcare Rethink podcast, presented by FinThrive, host Brian Urban sits down with Alex Maiersperger, the Global Principal Healthcare at SAS. Their conversation charts the role voice plays in influencing and connecting the healthcare industry. Maiersperger, who co-founded the Advancement League, shares his journey from being a healthcare optimist to […]
Read More