How America's Model Smart City Popped Up In the Midwest
As the years pass and technology becomes more advanced and integrated into people's daily lives, the infrastructure surrounding dense urban areas will have to adapt. With autonomous vehicles already a reality and the technology becoming increasingly more affordable, many large metropolitan areas across the country are in the midst of a 21st century makeover, becoming their own respective "smart city".
To understand what goes behind transforming a city into a "smart city", it is important to know what makes the city smart. According to the Smart Cities Council, in order to be considered a smart city, "a city must use information and communications technology to enhance its livability, workability and sustainability." While that may seem like a pipe dream to many, smart city programs are popping up in places across the nation with very diverse footprints.
While some may assume that these smart cities are located in West Coast tech-hubs, a Midwestern gem is bringing the state of Missouri into the next generation of modern infrastructure.
Starting in 2016, Kansas City began implementing smart city initiatives throughout their greater downtown area, focusing on connectivity, sustainability, and city management.
Built around the city's modern iteration of the old-fashioned streetcar downtown, Kansas City, with the help of a $15 million public-private partnership, installed the infrastructure necessary to provide Wi-Fi connections spanning 50 street blocks and 125 smart streetlights. This not only helps the city use technology to engage with pedestrians and increase street traffic, but also enable things like smart lighting and other IoT applications to help the city save money while decreasing its carbon footprint at the same time.
It's not just connectivity that makes these smart cities such an asset. Kansas City has also adopted the use of analytics and algorithms to help save both commuters and the city time, money, and resources. In one of its most successful and popular projects launched as a part of the smart city initiative, Kansas City is using data from all kinds of sources to actively predict potholes. This is happening by employing street-level sensors that provide real-time data regarding volume and types of traffic happening on a street.
Weather, which has proven to be a significant contributor to the development of potholes, as well as background information on what company paved the road helps the city form an algorithm that predicts the location of future potholes.
The pothole prevention method has an astonishing success rate in accurately assessing where potholes will form in the future and has set a new standard for how other cities across the country use data and analytics in a proactive way. With more than 100 cities as of Q1 2018 known to have started some type of smart city related project and the results making a positive impact on their communities, it is hard to imagine this trend going away anytime soon.
For the latest news, videos, and podcasts in the IoT Industry, be sure to subscribe to our industry publication.
Follow us on social media for the latest updates in B2B!
Twitter – @IOTMKSL
Facebook – facebook.com/marketscale
LinkedIn – linkedin.com/company/marketscale
Latest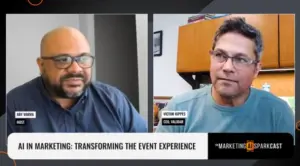 November 28, 2023
AI has been gradually changing the landscape of event technology at a very rapid pace. In an industry where staying ahead of technological trends is crucial, AI's impact on marketing and event management has become increasingly significant. As witnessed in the rise of account-based marketing and enhanced personalization, AI is effectively reshaping how events […]
Read More