How Can Smart Cities Elevate Cybersecurity Efforts?
Striking a balance on cybersecurity in smart cities is tough. It falls somewhere between implementing connected technology that is interoperable enough to be functional and not so open source that it's open for vulnerabilities.
On this episode of MarketScale TV, live from the MarketScale Tradeshow Booth, Voice of B2B Daniel Litwin talked with Paul Doherty, President, and CEO, of the Digit Group, a smart city solution provider giving solutions on everything from master planning and architectural design services to real-world implementations of blockchain and IoT solutions.
There have been a lot of enterprise companies across many industries getting hit with new ransomware and malware attacks. Regardless, it seems, at least anecdotally, that cyber-attacks are on the rise or at least high-profile ones. When cities are building out their digital networks, it's essential to prioritize cybersecurity, considering the recent attacks and analyzing which threats should be taken seriously.
"It's a package that, depending on the threat, you have a certain protocol that's part how you build it out, to begin with from an architecture and design aspect of what that stack looks like, what the APIs look like," Doherty said. "Along with behavior change of reaction, resilience, which ultimately leads to getting out in front of the problem."
The digital world that Doherty is referring to had to be built with different protocols in mind on where they thought the attacks were going to occur. Of course, once you do this, the attacks tend to appear somewhere else. Therefore, it's crucial to build machine learning and AI to constantly look for those bad actors.
Follow us on social media for the latest updates in B2B!
Twitter – @MarketScale
Facebook – facebook.com/marketscale
LinkedIn – linkedin.com/company/marketscale
Latest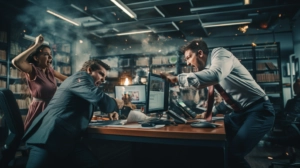 September 22, 2023
The kind of news that is delivered everyday serves as a grim reminder of the escalating violence across the U.S. Evidently, the need for proactive measures to ensure safety has never been more pressing. Such violence is not limited to any particular locale. It's actually permeating in so many different areas once considered […]
Read More