Intel CEO Pat Gelsinger on Foundry Business, Global Chip Shortage
Intel Chief Executive Officer Pat Gelsinger discussed the company's ambitions to create a new foundry business, and saying he sees the global chip shortage lasting "a couple more years." Gelsinger spoke with Bloomberg's Emily Chang about why change is something that's fundamental to Intel's business.
—
Gelsinger: I'm committed to the best products in every category that we participate in, the best cost structure and the most resilient supply chain, and we see this ability to leverage the industry, but also become a major supplier of foundry to the industry. This is a winning formula and the world is demanding more semiconductors than ever before. We were getting more digital and then COVID happened. And it's accelerated. So we need to step into this in a big way. And I think our strategy is uniquely positioned for Intel to be able to execute on.
Host: Now, investors loved hearing you say Intel's fixed all its problems. But Pat, you've been back at the company for just over a month. And we're talking about production deadlines that were missed over years. What makes you so sure that you've diagnosed and solved the manufacturing problems?
Gelsinger: We're moving to a yearly cadence of process innovations following that. So we're on track to not only fix the issue, but be at parity and then parity plus and ultimately, we believe, sustained leadership into the future. So the path we're on looked at the data quite extensively over the last month or so. And came to the conclusion, the team got to figure it out. We're back. And as you've seen more broadly with our new Intel, IBM 2.0 strategy, as I've declared, Intel is back.
Host: Indeed now, you suggested companies like Apple and Qualcomm could be your customers. Why would they be your customers? If they are your competitors? Why should a fierce rival also work with you?
"We've estimated the overall foundry market at $100 billion by 2025 and we're going to earnestly pursue a meaningful portion of that." – Pat Gelsinger, Intel CEO
Gelsinger: Well, as you well know, Emily, and I think you've even written on the subject about coopetition and clearly, this idea that, you know, some domains, you might compete in, other domains, you might be competitors, I mean, customers and partners as well. And for that, you know, there's very few companies that can step into advanced semiconductor technology, something that we've only used for our internal needs at scale before. But now we're saying we're going to open our fab doors wide for the industry. And with that in mind, you know, customers are looking and saying, huh, you know, I only have TSMC, Samsung and Intel as the leading choices. And only one of those is a Western US and European soil at scale. Wow, I need a more balanced supply chain. I want to have at least two suppliers of my advanced technology choices. And Intel is saying we are going to be that. But, you know, there might be some skepticism because we've somewhat half heartedly tried some of this in the past. And we're saying we are boldly going down this path. We're going to have our best technologies, our unique 3D packaging technologies, and I'm going to be making all of my intellectual property available, including my x86 course for these customers. So we're really going at it with the best that Intel has to offer. And the world needs more semiconductors. The world needs a more balanced supply chain. We're one of the few companies that can step in to do that.
Host: What are the financial implications of the move? You're obviously raising your capital spend by $6 billion. When does this all start paying off?
Gelsinger: Well, it is a capital intensive cycle, takes a couple of years to build fab. So you invest well before you have that foundry capability up and running at scale. That said, we are seeing extraordinary demand signals from the industry for today's products. So part of this is I get to flexibly build capacity that meets my products as well as foundry needs. And we expect that we'll run a factory network that has some optimized for our products, some optimized for foundry and some flex fabs in between, because we need to be at scale across the business. But we do think it takes a couple of years to build this out as designs take time to be committed to a new process. And then test them ramping in manufacturing. But we're underway. We already have some existing foundry customers at small scale that will start ramping up more rapidly. So this business will get underway. We've estimated the overall foundry market at $100 billion by 2025 and we're going to earnestly pursue a meaningful portion of that.
*Bloomberg contributed to this content
—
Follow us on social media for the latest updates in B2B!
Twitter – @MarketScale
Facebook – facebook.com/marketscale
LinkedIn – linkedin.com/company/marketscale
Latest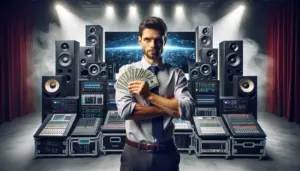 December 8, 2023
Mastering AV sales strategies in a global professional audio-visual (Pro AV) market, poised to reach $79.2 billion by 2028, requires much attention to detail. The surge in demand from corporate, government, and institutional sectors, driven by the need for enhanced productivity and efficient working environments, gives AV sales pros a lot of opportunity. In […]
Read More