Millennials: Steering the 5G Starship
Born between the early 1980s and early 2000s, millennials grew up in the era of pervasive technology, and are expert users of computers, the internet, and their mobile devices. And today, millennials are influencing more than just their peer groups. Representing the largest demographic group in the US, they're increasingly shaping lifestyle trends and guiding workforce strategies and business growth.
The first generation of digital natives are a compelling force to be reckoned with—transforming the way we work, play and learn. Well educated, tech-savvy and idealistic, their demand for customer experiences and connectivity have revolutionized everything from dining to manufacturing and everything in between. As such, it's no surprise that this generation's demands are also guiding the standards for the future of digital networks and services. Thus, as 5G networks lay in a course for roll outs on a wide-scale basis, it's up to mobile technology providers to cater to the demands of this demographic.
Tech Adopting Millennials are "Making It So"
Representing about 33% of today's workforce but expected to comprise as much as 75% by 2025, millennials' purchasing power is increasing exponentially. With expectations and data consumption needs rising in pace, the mobile market will need to strategize accordingly to respond to their demands in the coming 5G era. Case and point—did you know that a recent survey found that:
28% of millennials aged 15-24 stream on-demand videos for 1-3 hours/day, and another 17% stream for 3-6 hours/day, 6 times more than those 45-years-old or older.
Millennials are more critical of network performance than those 45-years-old or older?
More than 50% of the total mobile data traffic is contributed to video consumption/distribution, and expected to increase to over 75% by 2023's end?
As device and video development becomes more immersive and VR and AR capabilities more prevalent, low latency, warp-speed network performance will be a must to handle the next level of video content. As such, telecom operators must begin accelerating their transition into 5G readiness, future-proofing their networks to ensure millennial segment loyalty.
5G Applications and Use Cases: Millennials Setting Phasers to Stun
Of the 155 million Americans who play video games, most players were born between the 1990s and 2000s. Millennials are also the leading users of Internet, mobile technology, and social media. With a more positive view of how technology affects their lives, nearly two-thirds of this group cites that technology makes their life easier, with more than half believing new technology helps them be closer to their friends and family. Boasting the highest rates of ownership of smartphones of all generations, today's mobile applications must be aimed toward this demographic.
Several application expectations for 5G were mentioned by millennials in two Wireless World Research Forum focus interviews:
More interaction via virtual broadcasting
Efficient navigation possibilities
Ubiquitous connectivity via IoT
Big data mining possibilities
Efficient VR in gaming
Lucid video transmission of 4K/8K videos
Unimaginable applications yet to be developed
New hardware application for IoT
Purposely-built for the IoT, low-latency 5G proliferation will not only empower seamless connectivity between smart appliances, health devices, autonomous vehicles, and drone deliveries, but will also enable other mindboggling potentials such as remote surgery, holographic technologies that remove the need for a staff member's physical presence, and more sci-fi-seeming possibilities that are reminiscent of a "Trekkie's" world.
Millennial Mobile Targeting Strategies: Resistance is Futile
The largest consumer demographic, already spending upwards of $600 billion yearly, millennials will have decisive influence on the future of 5G performance and applications. Further, with NPD's latest Mobile Connectivity Report stating that 49% of millennials are keen on 5G phones, these digital natives are the most probable consumer group to take the high-speed plunge. And as more carriers disable older generation networks, implement end-of-life plans for 2G and 3G devices, and simultaneously deploy more 5G rollouts as the year progresses, mobile device and accessory manufacturers must ensure they are 5G-ready with products and accessories that meet millennials' diverse demands, i.e. 5G phone cases, airpod cases, popsockets, keychain holders, speakers, chargers, etc.
Read more about the changes that will come with 5G at Tessco.com
Latest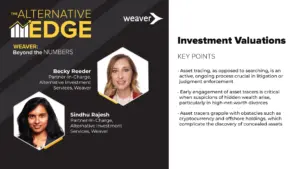 December 4, 2023
In this episode of The Alternative Edge, a Weaver: Beyond the Numbers Podcast, host Becky Reeder, an audit partner and co-leader of the alternative investments practice at Weaver, engages with Sindhu Rajesh, an Alternative Investment Services Partner with Weaver. They unpack the complexities of venture fund valuations, offering critical insights into industry dynamics and best […]
Read More