The Future of Construction: Unpacking Modular Building
In a recent Getting Smart episode, Jim Dunn, President and Founder of Stack Modular, lent his insights into the evolving landscape of the modular construction industry. Here, we'll dive deeper into the key takeaways from the conversation, offering a comprehensive look into the world of modular building and how it's poised to disrupt the traditional construction industry.
Key Takeaways:
Origins in Outsourcing: Stack Modular's journey began in China, where the company started building modular units out of containers. Dunn likens this strategy to Apple's outsourcing of iPhone production, demonstrating the effectiveness of utilizing external resources to optimize operations.
Adapt and Evolve: As the company grew, so did their methods. Gradually, they transitioned to creating larger, bespoke steel frame buildings. This change in approach was primarily in response to the escalating housing needs on the West Coast.
Navigating Hurdles: Despite its potential, the modular construction industry isn't without its challenges. Dunn outlined several obstacles, such as an evolving understanding of modular buildings, historical failures, and political red tape. However, the burgeoning housing crisis remains a potent driving force behind the push for modular construction.
The Value of Sustainability: Modular projects might require extensive timeframes, but they present a sustainable alternative to traditional construction methods. With lower decarbonization rates compared to conventional structures, they represent a significant stride towards a more eco-friendly construction industry.
Education and Communication are Key: Dunn underlined the critical importance of enhanced education and communication with government entities to expedite the construction process and mainstream modular building.
A Solution to the Housing Crisis: Despite the challenges the industry faces, Dunn remains optimistic about modular construction's potential. He sees it as an effective solution to the ongoing housing crisis and a viable means to reduce environmental impact.
As we navigate an era defined by housing shortages and a growing emphasis on sustainability, the potential of modular construction is increasingly evident. Although the industry faces considerable challenges, with enhanced understanding and streamlined processes, modular building could very well shape the future of the construction industry.
Latest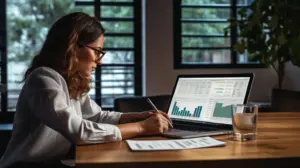 October 4, 2023
The intersection between security and financial acumen often gets overshadowed in a constantly changing economic landscape. While security is essential for safeguarding assets and ensuring continuity, its perceived monetary value is mired in misconceptions affecting company profitability. For many, security is viewed primarily as an expense rather than a potential cost-saver. However, understanding […]
Read More