Vecna Robotics Named Best Overall Robotics Company by the AI Breakthrough Awards for AI Orchestration Engine
AI Breakthrough Awards – August 2020 – Vecna Robotics has been selected as Best Overall Robotics Company by the AI Breakthrough Awards for work in developing Pivotal, an AI orchestration engine. The AI Breakthrough Awards recognize the top companies, technologies and products in the Artificial Intelligence industry today. The global artificial intelligence market size was valued at USD 24.9 billion in 2018 and is anticipated to expand at a CAGR of 46.2% from 2019 to 2025. Significant improvements in commercial aspects of artificial intelligence advancements and deployment in dynamic artificial intelligence solutions are propelling industry growth.
Read more on AI Breakthrough Awards here. Continue reading below for the Vecna Robotics Award nomination.
---
Rigid, inflexible systems present the biggest challenge to today's industrial supply chain. As demonstrated by growing e-commerce demands, and especially as highlighted during the COVID-19 crisis, a failure to evolve with changing demand significantly hinders productivity, on-time deliveries, and customer satisfaction.
Point solutions do not take advantage of system-wide optimization opportunities. As a result, they lack resilience and introduce a number of inefficiencies, including:
Safety issues
High employee turnover
Inefficient and uncoordinated offline workflows and routes
Idle, non-revenue producing workers, equipment, and robots
Unhappy customers, especially during peak seasons, whether anticipated or at times of emergency
While more flexible autonomous mobile robots (AMRs) can streamline parts of the warehouse, they only address part of the issue.
Vecna Robotics, a logistics automation company, recognized the need to prioritize workflows over AMRs. In 2019, the company introduced Pivotal, the world's first multi-agent AI-based orchestration engine that empowers humans and robots to react in real-time to demands on the production floor.
Pivotal is fundamentally changing the materials handling industry by automating and continuously improving operational efficiency, resilience, and productivity. Like the Grand Master Chess Player, it analyzes a facility's current state of operations, including what needs to get done and which resources are available. Pivotal then assigns missions in real-time, ensuring every resource – including robots, human workers, and manual equipment – is deployed to the right task at the right time.
The Pivotal orchestration engine:
Coordinates and distributes real-time tasks based on capabilities, location and availability
Adapts workflows to efficiently run through diverse levels of demand and operational changes
Sharing information across people, robots and associated systems with intuitive user interfaces
Integrates seamlessly with legacy automation, piece-picking robots, WMS and MES systems
One of the world's largest shipping organizations is using Vecna Robotics' Pivotal to assign tasks dynamically, adapt plans in real-time and maximize resource utilization. Robots alone contributed more than a 38% increase in productivity while robots paired with AI orchestration resulted in a greater than 57% increase in productivity for the organization. When staff also received mission assignments from Pivotal, the whole system benefited from a 116% increase in productivity. Pivotal is also decreasing non-value-added travel by 80%.
In addition to delivering massive value to the logistics space, Pivotal is contributing to growth within the robotics sector by enabling interoperability amongst platforms, allowing robots from different companies to work together. Additionally, the engine improves society by empowering human workers to have more fulfilling and less dangerous, repetitive work by deploying associates to tasks that require creativity and problem solving.
Vecna Robotics continues to receive glowing recommendations and praise for its solutions from customers including FedEx Ground, GEODIS, Medline DHL Supply Chain, and large industrial manufacturers as well as some of the largest retailers in the United States.
Latest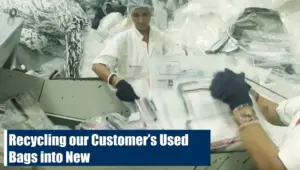 December 6, 2023
This video focuses on EcoLOK4, a groundbreaking product by CONTROLTEK that exemplifies innovation in sustainability. It highlights the process of transforming landfill waste into new deposit bags, with 90% of each bag's material being repurposed trash. This initiative not only reduces waste but also closes the sustainability loop, demonstrating CONTROLTEK's commitment to environmentally friendly […]
Read More