5 A.I. Startups To Watch in 2018
2017 was a year of benchmarks for artificial intelligence (AI) technologies. AI poker-players demolished their human competition.[1] Dermatologists were sidelined as a computer diagnosed potentially cancerous moles with record 90% accuracy.[2] 2018 is amping up to be just as exciting a year as 2017, with numerous startups looking to innovate and disrupt industries of all kinds. Here are 5 AI tech companies to keep an eye on in the coming year.
This startup is looking to change MRI scans for good. Their deep learning software stores a bank of MRI scans in the cloud to compare with new patient scans, allowing for a diagnosis in 15 seconds that would take a human 45 minutes. Last year, Arterys became the first FDA-approved AI platform for their cardiac MRI tech.
Spoke's central AI learns about your company, offering a chatbot for employees to direct frequently asked questions at. Spoke can alert the right person if a light gets left on or the A/C left too high, all while saving your company time.
This machine learning software studies blood to determine where bad tissues are in the body, and even whether it's malignant or not. The more their software screens, the better the results. Freenome is still working toward clinical approval.
This veteran startup is creating a powerful voice assistant that can handle complex questions. By not converting text to speech and instead comprehending a question all in one step, the AI saves time and reduces errors. SoundHound is in a competitive market, but has an edge.
By combining vertical farming with AI learning, this startup is creating indoor farms that are 100 times more efficient than traditional farming setups. Its pesticide-free products are already on shelves nation-wide.
[1] https://www.inc.com/kevin-j-ryan/ai-system-libratus-beating-worlds-best-poker-players.html
[2] https://www.inc.com/kevin-j-ryan/artificial-intelligence-can-detect-skin-cancer-as-well-as-dematologists.html
Latest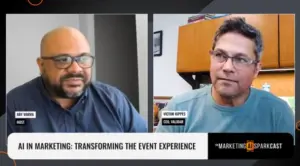 November 28, 2023
AI has been gradually changing the landscape of event technology at a very rapid pace. In an industry where staying ahead of technological trends is crucial, AI's impact on marketing and event management has become increasingly significant. As witnessed in the rise of account-based marketing and enhanced personalization, AI is effectively reshaping how events […]
Read More