Synergistic Solutions: Leveraging Expertise In The DFW Market

As a Houston-based company, Opportune LLP's headquarters resides in one of the nation's most important energy hubs. However, Opportune has expanded its presence in Texas to serve its clients beyond the "Energy Capital of the World". One of these locations includes the booming Dallas-Fort Worth (DFW) metroplex, a location rich with opportunity. So, how is Opportune making the most of its presence in this burgeoning hub for business, finance, and technology innovation?  
In more ways than one, according to Ryan T. Senter, Partner who leads Opportune's Business Transformation practice, and Randy L. Hill, Partner who co-leads the firm's Complex Financial Reporting practice. On this episode of E2B: Energy to Business, the two chat with host Daniel Litwin about Opportune's unique business strategy, which not only benefits clients across the area but also boosts Opportune's talent ecosystem.  
Hill brings more than 37 years of experience with KPMG to Opportune as a Partner in the firm's Dallas office. He has worked with numerous Fortune 500 companies, advising on mergers and acquisitions, and has helped bring transformative initiatives to the market.  
"One of the things that we're trying to do is build talent," Hill says. "We can go out in the market and bring in individuals, but I think we're making a significant effort to find the right talent and highly experienced individuals that have a diversified set of skills in the market." 
Senter, who has over 25 years of experience in business advisement and performance improvement, is focused on helping drive growth across multiple industry sectors. He says there are two main components that he and firm leadership look for when identifying new talent that could make a meaningful contribution to adding value to clients: leadership and problem-solving.  
"Leadership rises to the top when engaged in a conversation and their ability to bring calm to a dicey situation," Senter says. "Organizations need that leadership to help guide through the waters to ensure there's a smooth landing as change and processes are induced or when new accounting pronouncements are being anchored and implemented. You also need problem-solving skills to break things down into manageable pieces to get things done quickly to add value to clients." 
While Opportune has built its reputation and sharpened its business advisory expertise serving clients in the energy industry, DFW is a much different market than Houston. It's this deep energy industry experience that Senter and Hill intend to leverage when helping clients operating in non-energy sectors in the DFW area such as financial services, healthcare, aviation, and consumer goods and services, and many more. 
"It's that diversification as the backbone that expands our offerings and allows us to go to market a lot bigger," Senter says. 
As we close out 2022 and round the corner to 2023, Hill and Senter say the firm is poised to assist energy and non-energy companies to help them navigate and weather change as it comes their way. 
"We're super fortunate to have a great brand," Hill says. "We want to be able to seize on those other opportunities outside of energy knowing we're in this diversified market." 
"Let's face it, business is done differently now," Senter adds. "We have to adapt to that and, most importantly, bring that leadership to market that helps all organizations we serve be successful." 
Latest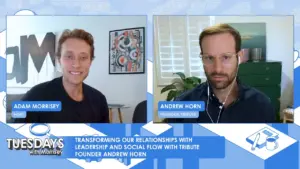 November 28, 2023
Can relationships be transformed through leadership and social flow? Navigating the intricate web of digital relationships can be a tricky proposition. Tuesdays with Morrisey's Adam Morrisey uncovers the transformative impact of emotional recognition in the workplace with Andrew Horn, the mastermind behind Tribute. This podcast edition unravels the story of a platform redefining how […]
Read More