Live from FABTECH 2021: Bill Heuer and Paul Peterson
While automation is prevalent in many aspects of manufacturing, finishing and liquid applications have been slower to find the right solutions. Derek DeGeest, host of Manufacturing a Stronger Standard, spoke with Product Marketing Manager Bill Heuer and Worldwide Sales Director for Automation-Liquid Finishing Paul Peterson of Graco at FABTECH 2021 about their partnership as a LestaUSA Authorized Equipment Partner in automating painting with robotics.
"There's been a trend of moving from manual to automatic, and the pandemic highlighted the need for this. Finding painters is hard as well," Heuer said. 
"Almost everything needs some type of finishing. Some companies also used to outsource this but now need to bring it back in with this new equipment," Peterson explained. 
Graco and LestaUSA partnered to bring automation of liquid applications to the market in an accessible way. LestaUSA provides the robotics, while Graco provides the finishing products. 
Graco was LestaUSA's first equipment partner, working together to create an easy-to-use solution. 
"The automation trend is here to stay. Automotive was an early adopter, and now the general industry is catching on. With new capabilities like the ability to change colors, automation answers the need here," Heuer shared. 
"We've figured it out together. There's a great relationship between our engineers," Peterson added.
At FABTECH 2021, DeGeest, Heuer, and Peterson described the automation process of taking the paint sprayers and moving them from an operator's hand to a Lesta robot as simple. Everything is programable and controllable in real-time, which also helps bridge the gap in recruiting new workers into the field, such as robotics programmers. "It's much more fun to use a Lesta robot than suit up and go into a paint booth," Peterson commented.
Latest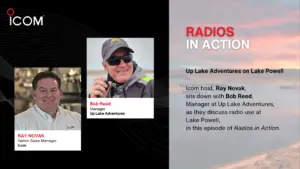 November 29, 2023
Delving into the serene beauty of Lake Powell, the Icom Podcast "Radios in Action" pairs the thrill of personal watercraft adventures with the crucial use of marine radios. Host Ray Novak and Bob Reed, the Manager of Up Lake Adventures, discuss the enthralling experiences offered by Up Lake Adventures in Utah's majestic landscapes. In […]
Read More