The Next Generation of Energy: Understanding Power Plans – What They Are and Why They Matter
Host of The Next Generation of Energy, Tyler Kern, spoke with Joe Piccirilli, CEO of RoseWater Energy, about power plans for specific projects – what they are and how they are implemented.
The conversation opened with a discussion of microprocessors and the importance of the electronic devices having consistent access to energy. Britannica defines a microprocessor as "any of a type of miniature electronic device that contains the arithmetic, logic and control circuitry necessary to perform the functions of a digital computer's central processing unit."
Whether we realize it or not, microprocessors permeate daily life. For instance, in the home, they can be found in a variety of devices, including washing machines, microwaves, dishwashers, refrigerators, hairdryers, electric toothbrushes and much more.
Piccirilli also noted the importance of consistent energy to ensure proper functionality of microprocessors. "As we continue to automate homes and businesses, we are loading them up with microprocessors," he explained. "And, microprocessors want consistent voltage, consistent current — so consistent power in general. They certainly do not like power outages."
Why does this matter? Sags and surges in energy can compromise longevity or cause complete failure altogether. Microprocessors impact virtually every aspect of our lives, so when they don't work, the quality of life is severely impacted. The solution – power plans designed to meet the growing needs of advanced technology as well as the growing number of devices in our lives.
Latest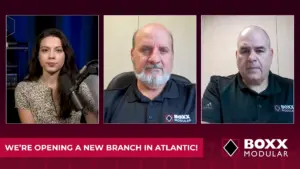 December 4, 2023
In an era where construction innovation is reshaping the industry, modular construction's growth continues to rise. In this episode of Built Modular, Boxx Modular's strategic expansion into Moncton, Atlantic Canada takes center stage. Host Gabrielle Bejarano welcomes Charles Landry and Ray Girouard to explore the implications of this venture. Bejarano, Landry, and Girouard discuss […]
Read More