A State of the Union for Women in Pro AV with Jennifer Willard of WAVE
This is the first of many collaborative podcasts between Women in AV (WAVE) and MarketScale Pro AV, where WAVE Founder Jennifer Willard and MarketScale's Voice of B2B Daniel Litwin discuss challenges, positives, trends and important figures affecting women in Pro AV.
In this first episode, we want to take you back to 2011, when Willard founded Women in AV. Not that long ago in the grand scheme of things, but as Willard recollects in her June article "Why I'm Proud to be a Woman in AV," things were a lot different for women looking to get involved or already entrenched in Pro AV. Just look at the InfoComm tradeshow floor; Best of Booth Babes slideshows adorned the projector screens, and there was more hired female talent than actual women representing their organizations. Since then, through efforts taken to recognize and advance women with training, awards, mentoring initiatives recently launched in the UK, and with AVIXA's Women's Council local groups taking off in the past year and a half, things have improved a lot for women in Pro AV. "When it comes to the Women in AV, the only requirement that you have to be a 'woman in AV' is that you support us," Willard said.
That doesn't mean there aren't new or deeper challenges that need to be addressed. Willard and Litwin will discuss a sort of "State of the Union" for women in Pro AV, building a foundation of the most exciting wins and distressing problems afflicting the space, new WAVE initiatives being launched to tackle existing challenges, and setting the stage to hear from other thought-leading women in Pro AV about their experiences, insight, innovations and creativity.
HIGHLIGHTS FROM THE EPISODE
Daniel Litwin: Let's move on to those positive wins, because I think if we go back to that article I mentioned earlier that you wrote in June, the Booth Babes have evolved. We're no longer seeing that; things are a little more equal across the field, we have Booth Dudes as well, right? That's just a small representation of some of the overall cultural changes that we've seen. Not only in the way people approach treating women in Pro AV or how women want to join the Pro AV industry, but I think just in the initiatives as well. The AVIXA Women's Council, how that has grown in the last several years, even in the last year and a half the number of local chapters have nearly doubled. 
It's just a really an exciting time for women in the industry to find their voice and to really make a change. Tell me about some of the positive wins that you've seen for women in the industry. It could be coming from women, it could be coming from men who are allies of women in the industry. Just anything you've seen that has been particularly encouraging or industry changing.  
Jennifer Willard: One of the greatest and most positive things that I'm always encouraged with, is the support that we, as females in our industry, receive from the men. That's always been an enormous win for us and it continues to grow. The reason that I think that that is incredibly important is it gives women confidence. It gives us, when we already feel that we might not necessarily be in the right place, to have that acceptance is really amazing.
On the other hand, I think one of the things, and we've seen with the Supreme Court hearings and everything that's gone on, I think one of the challenges and one of the things in our industry, getting back to that, is that men sometimes don't feel that they have a voice as well. They don't necessarily feel like they know where they can fit into a conversation, even if they are as incredibly supportive of women and want to help. Like I said, we're in this together, and we really need each other to move forward.
One of the most incredible positives that I've seen is really just a gender-neutral collaboration. When it comes to the Women in AV, the only requirement that you have to be a woman in AV is that you support us. That's one of the amazing wins. I think moving forward for us, it is, as I mentioned, we're lookingat focusing our energy and time on initiatives that have concrete and tangible outcomes, such as launching the mentoring program in the UK. We're going through the first round of the pilot there, which we'll look to launch once that's successful. We've understood what worked and what didn't. We'll look at launching that worldwide.
Doing something like a public outreach video series with Maddie Vining of 1 Wimpole Street, she is an incredible young woman in AV. It's also something that we as an industry need to be aware of and look at. She's in a whole different other world when it comes to what AV actually means to her. She's a technician, she's into editing, she's into a lot of these different software applications that historically, as an industry, you know, we've been boxes and lights. We've installed things, we've set them up and they sort of live in the background. You know herself and a woman that we had at one of the panels that Maddie was on recently, Nina, she is a video engineer and she does amazing things with lights.
I think, not only as an industry, in order to stay relevant, in order to stay focused on the future and making positive strides, we also need to look at encouraging younger women, getting different aspects and really being aware of where our industry is going forward, that it's going to have the most impact. So, things like that. Another young woman working on ways that we can actually get women employment and give them opportunities that make them feel comfortable in terms of taking these risks. Applying for a job is something that's a little scary for maybe a lot of people, and if you don't think that you have the skills, or if you don't think you are qualified, women tend to really hold back. Working with young women like Mara Quinn, of TRPM, trying to evolve something where we can help women to actually get job opportunities that they wouldn't otherwise have, is all types of initiatives that we are really focused on trying to bring together. 
DL: Yeah. You mentioned specifically, this doesn't have to do with women directly, but I think it gives women a chance to shine in the industry, and that was the transitions from hardware to software and the evolution within products provided in Pro AV. I think that's really representative of the industry as a whole. An issue of the industry as a whole is that professionals, whether it's the individuals, the integrators, or the companies who provide these services, are having to evolve what it means to be AV. What is an AV product? It's not just the hardware boxes and it's not just the technology that goes into…let's say facial recognition cameras. 
All of that stuff is great and new, but it's evolving into mobile, web-based services products, software, things that are a little more open source, a little easier to integrate. I think it's having to recontextualize a lot of how people view their own industry. I think this gives a great opportunity for people, like you were mentioning, other women in the industry who maybe have these personal penchants for the next step in AV to step up and be a new focal point. Especially joining a group like Wave or AVIXA Women's Council local group and using those platforms as a place to spread those opinions and thoughts and be a real thought leader. I think it's a really special time to be a woman in the industry, especially as the technology continues to change, there could be opportunities for women to really stand up and be catalysts for movements and industry-wide changes.
JW: Right, or else we're going to get swamped by Amazon and Alexa. You see that more and more where you see Google at the last few InfoComm shows. I know that Microsoft, I'm not sure if they were there this last year, but I know that have been there in the past. You also see companies like Teledoc, which I did not see anything about them at IC18, I might have just missed it, but I also didn't see much about Telehealth. When you look at the government and the way that the government is giving out grants and really focusing their abilities on using technology to be able to meet health needs and things along those lines that they can't otherwise do. We're missing a big opportunity, I think, in staying relevant as an industry if we can't necessarily find our path, not necessarily in the consumer side of technology, that's is the CEDIA and such that those high-end homes and things like that. They're definitely starting to come up more.
When you have Control4 and these home alarm systems and things like that. As you mentioned, the ability for women, I remember a few years ago we had done a podcast on female programmers in the industry, and I'll be darned if I was able to even find four female programmers. So, seeing women such as Maddie and Nina who are really utilizing their creativity and they're using technology to be able to develop and express themselves creatively. That is really something that as women, I think is an enormous strength that we have. As an industry, the ability for us to be able to get behind women with the products and the services, to be able to help foster and grow that, would be a win-win for all of us.
For the latest news, videos, and podcasts in the Pro AV Industry, be sure to subscribe to our industry publication.
Follow us on social media for the latest updates in B2B!
Twitter – @ProAVMKSL
Facebook – facebook.com/marketscale
LinkedIn – linkedin.com/company/marketscale
Latest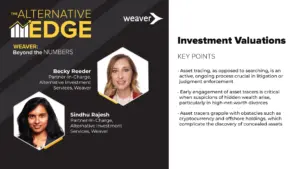 December 4, 2023
In this episode of The Alternative Edge, a Weaver: Beyond the Numbers Podcast, host Becky Reeder, an audit partner and co-leader of the alternative investments practice at Weaver, engages with Sindhu Rajesh, an Alternative Investment Services Partner with Weaver. They unpack the complexities of venture fund valuations, offering critical insights into industry dynamics and best […]
Read More