Designing Acoustic Friendly Office Workspaces for Better Sensory Experiences
Office cubicles are so 2000, and for better or worse, the 2010s have been the decade of the open office layout. Young millennial workers have little if any, actual experience working in unattractive offices demarcated by austere cubicle dividers. Today's company offices and popular co-working spaces are sleek and open, complete with glass, exposed brick, and concrete surfaces as far as the eye can see. While these environments have been tastefully designed for aesthetics, the effects of an open floor design on acoustics is usually overlooked.
The truth is the materials and arrangements seen in open offices often adversely impact audiovisual experiences for occupants of the space. But architects, contractors, and building professionals can create better workplace environments by consulting with audiovisual design experts who can recommend solutions for creating better office experiences.
The problem with poor acoustic design
Office workplaces are loud. People are chatting, laughing with their desk mates. Co-workers talking on the phone. The relentless tap of keyboard keys. The hum of computer fans. The sputter of printers. The clamor of heating and cooling units. And a litany of other unknown sounds that can't be placed. Add to that outdoor noises that seep in through the windows, and it's easy to understand just how challenging it is to focus on office work.
Featured in 70% of today's modern offices, the open layout design only makes the problem worse. While beautiful to behold, all that gorgeous glass, rugged exposed brick walling, and stunning hardwood and concrete floors reflect sounds, creating echoes while compounding environmental noises. Designed for aesthetics rather than the auditory experience, the open concept can lead to excessive noise that negatively impacts worker productivity, happiness, and even their health.
Productivity is the first casualty of a noisy office. Hearing just one nearby conversation can cause enough distraction to decrease a worker's productivity by up to 66%. That doesn't even include all the other loud office noises bouncing off reflective surfaces, driving down productivity. These prolonged, irritating sounds add stress to employees who are likely already overtaxed. As a result, they become unhappy, and their mental and even physical health suffers. According to the World Health Organisation, excessive noise levels cost Europe an estimated $38.7 billion in lost working days, healthcare costs, and reduced productivity.
Designing offices for better auditory experiences
Open concept workplaces aren't going anywhere—they're flexible, efficient, and practical, fostering collaboration. They're also appealing to clients and potential talent recruits. However, it's not until hires are on the job that the distraction of noise becomes an issue. But that doesn't mean auditory experiences must be sacrificed for aesthetics. An AV consultant can help in designing a workplace that creates more pleasing acoustics. When contacted early in the design of the space, these professionals can offer acoustic solutions such as furniture arrangement, sound masking (the addition of natural or artificial sound into an environment to mask unwanted noise), and absorptive sound materials. Integrating the recommendations of AV consultants can reduce undesirable acoustics and enhance speech intelligibility, worker productivity, wellbeing, and personal comfort.
AV solutions for effective meetings and communication
Not only can AV consultants help design spaces for better sound—they can also recommend useful technologies for making meetings more productive and collaborative. This starts with the use of large-format flat panel displays, electronic interactive whiteboards, and projection screens selected for high visibility in conference and huddle rooms. An AV consultant can advise on the best way to install these devices so that they can be viewed by anyone and everyone in a space, no matter where they're positioned. By following their counsel, conference rooms can be optimized for more efficient meetings, more impactful presentations, seamless video conferencing, and highly robust collaboration and brainstorming. The key lies not in integrating just any AV technology, but the right AV solution for each specific space—only then will an organization achieve more successful team working and decision-making.
While it may seem that modern, open office spaces would naturally allow co-workers to communicate better and more effectively, this isn't always the case. It's common for company departments to silo themselves—often unintentionally—which makes it difficult to get on the same page or form a cohesive communication strategy. AV consultants can provide solutions for remedying the problem, including technologies that integrate voice, video, data, and instant messaging into a single integrated system. These pros can customize strategies for your company so that your operation proceeds in lockstep, unified by clear communication.
Experienced design consultants
With over 55 years of AV experience, Electrosonic is a leader in designing workplaces for optimal sensory experiences and greater collaboration. We can help you deploy the right package for your office's specific needs, including state-of-the-art display and audio devices, video conferencing and presentation tech, and control systems for managing your entire solution. By engaging with our consultants at the initial stages of your workspace design, we can make recommendations regarding office layout, furniture arrangement, and material selection so that everyone in the space can enjoy the best sound and visual experience possible.
Click to learn more about how our technology design consulting services can help your office achieve better communication, collaboration, and productivity.
Latest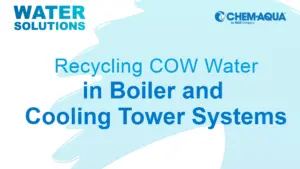 December 7, 2023
For the latest episode of ChemAqua's Water Solutions podcast, the focus was on an innovative approach to water conservation in the dairy industry. The show examined the potential of reusing Condensate of Whey (COW) water, a byproduct of dairy processing, and highlighted some of its economic and environmental benefits. Hosted by Dani Waddell, the informative […]
Read More