Focusing on Narrative in Designing a 'Disney Experience'
Whether you're an integrator, a designer or simply a label-defying creative, the EXPERIENCE is everything. Host Bryan Meszaros explores the story behind the exhibit to understand how a carefully crafted experience traps into the human experience to connect people to place.
Welcome to another episode of the Experience by Design podcast with host Brian Meszaros. Today, you'll hear from Lee Kitchen, entrepreneur, former Disney innovation catalyst and Independent Consultant of MagicMakers Group.
During his 32 years at the Walt Disney Company, he helped create some of their most impactful marketing campaigns, memorable guest experiences and real-time operational efficiency.
Below, you'll find an excerpt of Meszaros and Kitchen's conversation. To hear all of their insights, listen to the full episode.
LK: If you think about design thinking and creative problem solving, that dates back to the 60s and Alex Osborn and Sid Parnes. It's basically, 'We're not going to look at our challenge straightforward. We're going to take this little lateral journey to get to where we're going. And one of the things I do is I show up, I bring stimulus into the room — so I'll go and collect a lot of different examples of how other businesses are doing things, not necessarily even in the business that I might be working with, but other different kinds of businesses and how they have have solved this kind of challenge before. … Just come and be inspired and whatever, you know, it might be the catalyst that you need to think about something a little bit differently. And it's so far has been really successful.
BM: There's a lot of what we think will happen. There is a lot of observation and how we think human behavior is changed, but it's still a bit of an unknown. I love the fact that it sets up a lot of brands' environments to experiment and try different things.
LK: Absolutely. And I make sure that I sit up front, because a lot of times, what happens is people look for solutions that fit what they're doing. So they're programmed to just see what they can extract from it. So I tell them, stop looking for a solution and just start looking. … Don't just listen for what you want to hear. Listen for everything.
Join host Bryan Meszaros on Experience by Design every other Wednesday as he explores the latest trends and solutions helping craft the world's most intriguing experiences.

Latest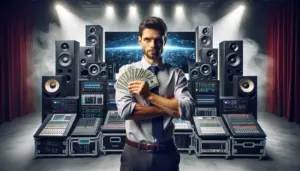 December 8, 2023
Mastering AV sales strategies in a global professional audio-visual (Pro AV) market, poised to reach $79.2 billion by 2028, requires much attention to detail. The surge in demand from corporate, government, and institutional sectors, driven by the need for enhanced productivity and efficient working environments, gives AV sales pros a lot of opportunity. In […]
Read More