Going East: Innovative Attractions, Technology And Themed Entertainment Developments In Asia
The Asian themed entertainment and leisure market – particularly in China – is experiencing rapid expansion. Prior to the pandemic, 2019 saw OCT Parks China, a Chinese theme park group, leapfrog Universal Parks to take third in a global ranking of the top 10 global theme park groups in terms of attendance.
That same year, two other Chinese groups – Fantawild Group and CHIMELONG Group – took fifth and sixth behind Universal, giving the country three groups in the top six worldwide. Fantawild Group saw the highest attendance boost that year of any group, watching its numbers boom nearly 20%.
As the population of China continues to balloon, middle class populations across Asia become more willing to spend, tourism kicks back into high gear and the themed entertainment and leisure industry, on the whole, is projected to experience significant growth from 2021 to 2025, the Asian market for cutting-edge experiences may be undergoing a Renaissance of sorts.
Add in exciting new technologies, such as extended and augmented reality, powerful projection solutions, and cutting-edge audio and video, as well as experiences like highly immersive dark rides ready to take advantage of them, and you've got a perfect storm for tremendous growth and opportunity.
Let's take a look at how the Asian themed entertainment and leisure market is prepping to capitalize on this potential – and how the revolution has really already begun.
Western Attractions Are Heading East to Combine with Distinctly Asian Experiences

As mentioned, with many new projects on the horizon and a positive entrepreneurial sentiment growing in Asia, the spotlight in the attractions industry is shining brightly on China.
This new attention is playing out in investment in the market from established, Western attractions brands, the organization of international events and strong (and only getting stronger) local initiatives.
Most themed entertainment and leisure visions have survived the challenging year of 2020, and China is reawakening after spending the better part of this era of caution as the eye of the storm.
Governments continue to support large-scale future projects, and, combined with renewed consumer confidence and increased spending, the momentum is building to fuel significant attractions development.
By 2025, more than half the world's largest cities will be in Asia, meaning that increasingly large and economically strong middle class will only become more ready to experience new parks and attractions. Japan, Singapore, South Korea and even Thailand are seeing interesting developments within the industry, as well – including perhaps the strongest Asian development to date in Super Nintendo World.
Super Nintendo World, located inside Universal Studios Japan in Osaka, is a unique study in the power of investment into cutting-edge themed entertainment and leisure technologies.
According to Orlando Informer, the park is said to have cost $578 million, putting investment at over $100 million more than Universal spent on The Wizarding World of Harry Potter – Diagon Alley in Florida's Universal Studios.
Much of that investment was placed in technology and interactivity, highlighting the increasing importance of these factors in crafting the themed entertainment experiences of the future. Guests now want as seamless, engaging and interactive an experience as possible from start to finish, and technology is stepping up to make it happen.
The park leverages exciting new wearable tech in the form of interactive wristbands that allow guests to play games, interact with physical elements like Super Mario's famous question-mark blocks, team up to fight bosses, and more. It also offers exciting new attraction capabilities, such as powerful augmented reality that puts guests inside a real-life Mario Kart race.
The entire park incorporates technology into a seamless experience that keeps guests engaged on and off the rides, fulfilling that growing desire for immersion.
Asia is a region known for its stunning and bleeding-edge technology, and the themed entertainment and leisure industry is geared up to follow suit.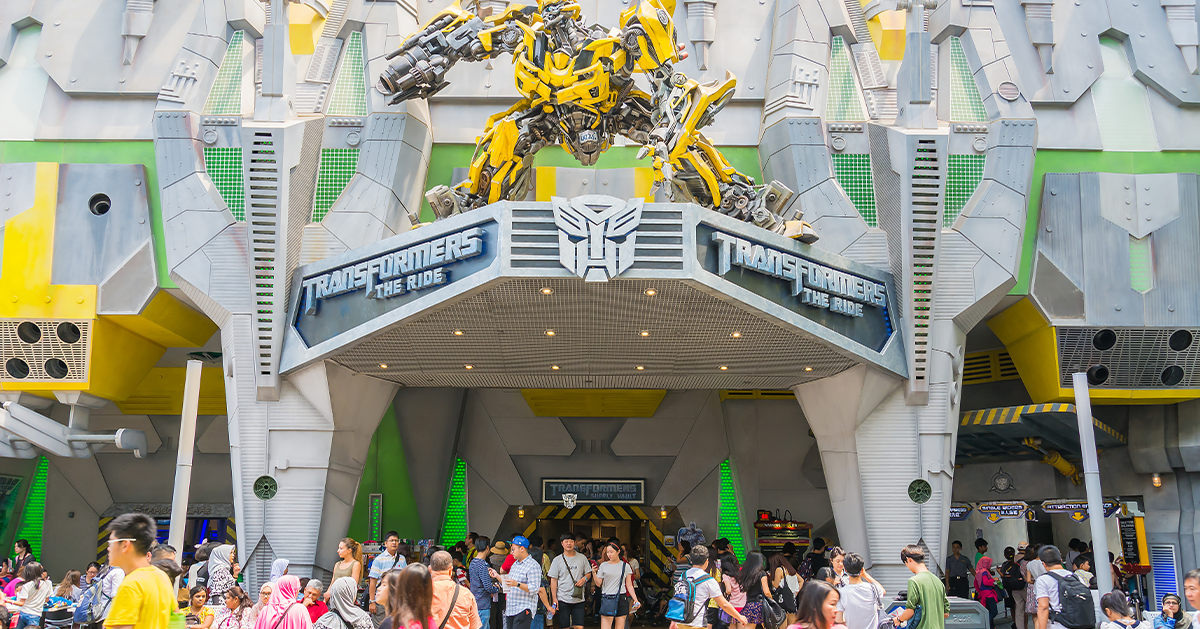 Exciting Themed Entertainment Projects on the Horizon
With the upcoming 2022 Winter Olympics set to be held in Beijing, China is prepping for a key event to draw a global presence and take place in its capital city.
Key players in the themed entertainment and leisure industry have already taken notice and made plans to capitalize on the event.
Universal Studios Beijing is on the verge of opening in May of this year, and other areas of China have seen international projects continue to make their presence felt, from Disneyland Shanghai, which is currently expanding with a brand new Zootopia area, to Hong Kong Disneyland, which is seeing a surge in investment to lift the project to the level of its Shanghai-based sister park.
Other major theme park developers are introducing formats that have seen international success to the Chinese market, as well. Merlin Entertainments, which ranked only behind Disney in the aforementioned 2019 ranking of global groups, has begun taking its strategy of clustering midway attractions in gateway cities to China, starting with Shanghai, Shenyang and Beijing.
Merlin has even said that, eventually it expects there to be at least five LEGOLAND Parks in China alone, with the first one currently underway for Shanghai.
While Japan's attractions industry is in a more mature phase, it still continues to expand significantly. The rescheduled Olympic Games in Tokyo in July of this year has renewed the focus on the country, and theme park destinations such as Disney and Universal are among the most visited destinations worldwide.
Technology Continues to Accelerate the Pace of Themed Entertainment Innovation
The industry is changing at a rapid pace, and that evolution involves a core role for technology in all new developments.
Innovation is now a core expectation of theme park visitors, and technologies are emerging that will empower operators to offer world-class technology to meet that desire.
Internet of Things infrastructure will continue to grow more robust, allowing greater operator control over a wide range of aspects of their park. From automated stocking to real-time information about queue times and integrations between technology solutions and interactive elements that make the entire experience more seamless, IoT elements will drive exciting new connections.
Further, after a year of rapid innovation outside of the theme park space, artificial intelligence and recognition technologies have become potential springboards to truly inspiring themed entertainment experiences. Imagine a guest walking into a park for a return visit, being recognized by a virtual assistant, and being immediately greeted with a coupon for one of their favorite treats or information about a go-to ride. That's powerful.
These technologies are just the tip of an iceberg with an already immense foundation in extended reality, interactivity solutions, and more. Technology has also improved themed entertainment's ability to expand the visitor journey, connect with visitors before and after the visit, and increasing in-park spending.
After a year full of lockdown and caution, the need for shared experiences with friends and family has been building, and these technologies will ensure these experiences are memorable and unforgettable.
Post-pandemic experiences will need to deliver on higher expectations, and technology will play a crucial role in distinguishing them from home entertainment and other competitors.
Electrosonic has the experience to support your company's growth in the Asian market.
To learn more, contact us today.
Latest
August 15, 2022
Collegiate athletics, college sports fans, and the larger sports retail world locked in another merchandising win and opportunity as Lids, the leading hat and sports merchandiser, announced another expansion to
Read more