How Important Is It for Your Audiovisual Partner to Handle Your Managed Services?
When creating or elevating a space, it's easy to get lost in the forward-facing, solutions-oriented side of AV installations.
You're concerned with how your integrator is supporting your overall vision for the project, working diligently to ensure the AV solutions they provide create the lasting and impactful experience you want for your customers, employees, or any other party inhabiting the space and getting hands-on with those solutions.
But, when the dust settles, who do you want handling your managed services? Support agencies are certainly an option, but do they really offer the best experience?
By going straight to an AV integrator, either to provide managed services as a standalone service or for support after a build is complete, you can leverage the expertise of a company that knows your solution and goals inside and out.
When you utilize the managed services of an integrator, you'll get support for both AV systems that the company installed or that have been installed by others, receive "cradle-to-grave" service from design through integration and support, find support in road mapping your AV system and planning the entire life cycle of the solution, and increase availability and uptime.
You can also leverage a global, layered approach that helps all solutions work together toward optimal performance and eases the burden on on-site IT departments, allowing them to spend critical resources elsewhere.
Particularly in cases where you can leverage the same integrator that helped bring your vision to life, partnering with your AV provider can boost the end-to-end nature of your project, providing measurable benefits in the form of rising ROI and lowered TCO.
Can integrators really provide the same support as a third-party agency?
In a word – yes.
Many AV integrators provide both managed service support as a service and for projects they've helped you see from initial planning to completion.
In today's breakneck society, the entire "as-a-service" trend is expanding, and AV isn't immune to that wave of progress.
AV integrators are offering more services than ever before on this basis, helping companies keep up with advancements surrounding cloud technology, avoid upfront capital investment that can hinder progress and implementation, and more.
However, an integrator's true chance to excel in providing managed services comes when you place the support and care of AV solutions they worked with you to design, plan and install directly into their capable hands.
No one understands the solutions that drive your space better than those who brought them to life, and remote monitoring of those solutions by the integrator, itself, can provide significant resource savings and lift a weight burden off the shoulders of on-site IT teams.
While some AV solutions are more "turnkey" and simpler to oversee than others, leveraging an integrator can provide unparalleled support for end users.
Remote monitoring services can increase the speed of response to any issues that arise, help take a proactive approach to system management through room scans and improved uptime, and provide access to expert resources that can triage issues that could be resolved remotely without the need for any direct, on-site support.
Best of all, if something does go wrong, you'll feel confident in finding a solution alongside the people who have the depth of experience with AV solutions to provide the support you need and ease the burden of your on-site IT team.
Though on-site technicians may be the best solution for your particular need, especially in the case of mission-critical environments, there are many cases where this remote monitoring relationship aids and increases the efficiency of on-site support to keep your solutions operating at peak functionality and efficiency.
Integrators are also valuable partners in the growing area of video conferencing. Remote work and effective video conferencing begin with designs and installations custom-made to support those endeavors, and who better to ensure your layout, equipment and more align with and continue supporting your needs than the company that implemented them to begin with?
When it comes to smart, effective and functional AV solutions, peace of mind is king. You need a managed services provider with a deep understanding of your space, your users and how everything fits together seamlessly to provide the complete experience you're after.
By turning to your integrator, you can make that confidence a reality.
Leveraging Electrosonic's Suite of Managed Services
At Electrosonic, we take pride in finding the right managed services for your unique needs, whatever they may be.
With Panorama by Electrosonic, we're committed to reducing your IT department's burden. Panorama offers a host of key services, including remote monitoring of AV conferencing systems and infrastructure, a 24x7x365 technical helpdesk, expert advice honed through decades of experience, automated incident response, a comprehensive management dashboard, online support and video triage.
Panorama's end goal is simple – to lift some of the weight off your IT team's collective shoulders, provide critical and complete insights, resolve problems faster, continually enhance your service, and boost every aspect of your business, from productivity to end results.
Collaboration is a tremendous way to achieve those results, and Electrosonic's Vista service gives you the keys to do just that.
Vista is Electrosonic's cloud video conferencing managed service, aimed at solving the challenges associated with asking your internal teams to integrate legacy systems with cutting-edge cloud capabilities, deliver interoperability and make video conferencing and collaboration simpler than ever.
Through assistance with migration, provision of a gateway service for key programs like Microsoft Teams and Google Hangouts Meet, support for essential collaboration functions, and management of the video conferencing estate from a single service platform, Vista enables unprecedented, yet simple, interconnectivity.
Finally, Electrosonic recognizes that none of this support is beneficial if your systems aren't constantly functioning as intended. Electrosonic's Affinity workplace support service makes that happen.
Affinity offers a flexible portfolio of support packages with single-point support for your multi-vendor environments, guaranteed response times and defined support costs. Affinity has a simple, singular goal – ensuring you have the right skill at the right time for any system issue that occurs, reducing downtime and getting you back on track.
Affinity's flexible nature ensures that there's a support package ideal for your unique situation and budget, providing key support services to businesses and solutions at any scale.
By partnering with Electrosonic as your managed services provider, you'll reap the benefits of immediate, measurable improvements to ROI, uptime, functionality, support, user experience, TCO, collaboration, and more.
Ready to see how Electrosonic's managed-service capabilities can benefit you? Get in touch with us today to learn more.
Latest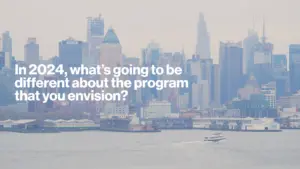 December 1, 2023
In the dynamic telecommunications landscape, Verizon's Partner Network continues to evolve, adapting to new trends and opportunities. For another segment featuring Mark Tina, VP of Indirect Channel Distribution and Channel Chief at Verizon Business Group, he explores exactly what types of significant changes and advancements the Verizon Partner Network will see in 2024. In this […]
Read More