InfoComm 2023: Poly's Insights on Video Conferencing and Collaboration
Video conferencing and collaboration at InfoComm 2023 were a significant focus, reflecting the evolving needs of the modern workplace. This premier annual event for the AV industry took place in Orlando, Florida, from June 10-16, 2023.
InfoComm 2023 explored the theme of conferencing and collaboration through various sessions and pavilions, including "Advancing the Hybrid Workplace" and "Designing for Collaboration Across Microsoft Teams, Zoom, and Webex Rooms" These sessions provided critical tips and strategies to utilize web conferencing and collaboration solutions from the most respected names in the AV community. Panelists from Cisco, Microsoft, Microsoft Teams, Zoom, and Webex shared best practices that bolster virtual collaboration experiences and integrate AI-powered collaboration tools.
Poly, a subsidiary of HP, showcased new video and audio products at InfoComm 2023, deploying the same AI-driven capabilities discussed during the conferencing and collaboration sessions. Jay McArdle, Poly's Head of Product, spoke with Pro AV Today on some of the unique strategies Poly deployed in recent years to set the bar for video conferencing solutions and integrations, especially in a time when the workplace was undergoing such massive and speedy transformation.
Jay's Thoughts
"Going through and having to break the waves for the industry, we were the first ones to get Zoom certified. We were the first ones to do Microsoft certification. It's a huge ordeal to go through and understand how to work with very large businesses like Zoom like Microsoft. It's not something that is easily done. You learn a lot of nuances about how to deal with an Android operating system, how to deal with camera control, and how to deal with a microphone. Things that you think are simple are not. When you try to make sure that you maintain that customer experience with an application that changes quarterly, then having the experience to know what you're going to be doing, how to test it, and what the scenarios are to make sure that you have an enterprise quality and reliable product is critical.
One of the neat things about coming into the HP family is that our general manager covers Poly, HyperX, and HPAC. The DNA of understanding what that looks like from gaming to home to office and the reliability required, as well as its personal nature, is critical.
When we start looking at it from my job of managing the video experience, it's from the desk to the office. It's wherever that desk may be, whether it's at a coffee shop, whether it's at your apartment, whether it's in your office, you need to make sure that you have the high-quality products to make sure that you can deliver on that gaming experience, that you can provide that video experience, that you're always showing up professionally, always showing up comfortably."
Article by James Kent.
Latest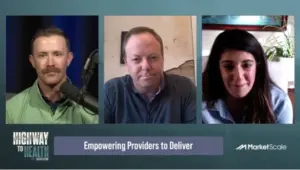 December 6, 2023
The healthcare industry is undergoing a significant transformation, driven by the need to improve patient experiences, access, and outcomes. Amidst this shift, contract lifecycle management (CLM) is emerging as a critical tool for healthcare providers. With the increasing pressure on cost management and compliance, healthcare organizations are seeking solutions that streamline operations and enhance […]
Read More