Keeping Emotional Responses at the Center of the Design
Whether you're an integrator, a designer or simply a label-defying creative, the experience is everything. Host Bryan Meszaros explores the story behind the exhibit to understand how a carefully crafted experience traps into the human experience to connect people to place.
Design can transport the mind and invoke emotions, and that's the point of it, especially experiential projects. Digging into the experiences of design once again, Experience by Design host Bryan Meszaros welcomed Jonathan Alger to the show to discuss these topics and a recent project. Alger is the Managing Partner and Co-Founder of C&G Partners. He has an impressive career working with some of the most prominent brands in the world.
Meszaros and Alger spoke about a recent installation for Memorial Sloan Kettering Cancer Center.
"They were looking for a positive distraction art form, an environmental feature that creates positive feelings and distracts from negativity and worrisome thoughts," Alger said.
Alger and team worked on two different designs. One was for the main lobby and the other on the sixth floor. "The first floor is a naturalistic, ever-lasting animation of bonsai, butterflies, koi fish, and blooming plants," Alger described. What makes this so unique is the use of fiber optics and wood. It creates a meditative and calming environment, as nature tends to do. See its beauty here.
The sixth floor includes a virtual koi pond in collaboration with Potion. The environment evolves with color and light, changing season for an immersive experience.
In discussing these emotive works, Meszaros and Alger explored what it means to have an immersive experience with art and the path to appealing to emotions. "I hear from clients they want to appeal to emotions, and I ask, 'Which one?'"
Alger referenced the movie Inside Out as a good way to broach the topic since it gives life to the five critical human emotions. The experiences that come from design can be impacting and completely change the experiencer, which was certainly the goal for those facing a health crisis.
Join host Bryan Meszaros on Experience by Design every other Wednesday as he explores the latest trends and solutions helping craft the world's most intriguing experiences.

Latest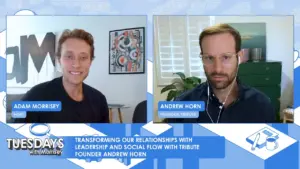 November 28, 2023
Can relationships be transformed through leadership and social flow? Navigating the intricate web of digital relationships can be a tricky proposition. Tuesdays with Morrisey's Adam Morrisey uncovers the transformative impact of emotional recognition in the workplace with Andrew Horn, the mastermind behind Tribute. This podcast edition unravels the story of a platform redefining how […]
Read More