The Post-Pandemic Future of the Digital Workplace
It's clear that the current state of uncertainty brought about how the COVID-19 pandemic has engineered drastic shifts in the way we think about different corners of society – and remote work and collaboration are near the top of the list for companies across the globe.
As the novel coronavirus spread throughout the world and led to stay-at-home mandates, many operations' lack of thorough plans of action for remote workspace collaboration and digital workplace capabilities were exposed.
How can those businesses avoid a similar fate should another disruption equal to COVID-19 emerge? What best practices and drastic changes to the landscape of collaboration will come out of this pandemic?
Let's examine the potential post-pandemic future of the digital workplace and how IT leaders can use the knowledge and lessons provided by COVID-19 to enhance workspace collaboration in a rapidly changing environment.
Looking Back to the Pre-Pandemic Contingencies
Before we dive into what may take place as the new normal dawns in the wake of the pandemic, let's look at the stumbles that needed to be overcome when this unprecedented period began.
In many cases, plans to provide employees remote access to the tools and capabilities needed to perform their best weren't in place, creating a mad scramble to patch together ways to deliver that access in a thorough and secure way.
Videoconferencing capabilities were also thrust into the spotlight, with many organizations being forced to deal with inadequate setups and server capabilities that didn't allow for the remote speed and efficiency employees needed to work from home without losing on-site levels of productivity.
Finally, offices, themselves, weren't equipped to deal with new best practices surrounding social distancing – for companies that did remain open under essential business categorization, meeting rooms and videoconferencing equipment often didn't allow for proper distancing efforts without sacrificing some of the audiovisual quality of pre-pandemic efforts.
Fortunately, there are solutions and paths forward to enhance collaboration and improve productivity despite a new way of work.
Elevating Collaboration and Videoconferencing Strategies
Traditionally, videoconferencing solutions have been complex, inflexible and expensive – and the onset of the COVID-19 pandemic highlighted those shortcomings.
The way forward, then, is to flip those characteristics on their collective head.
In the post-pandemic workplace, videoconferencing solutions must focus on providing flexible, agile, secure and cost-effective capabilities, and not just in-office – with remote work potentially becoming a larger part of the way the world conducts business, pandemic or not, these new solutions need to follow employees wherever they go.
Here are a few key considerations for delivering on this potential and adapting to the lessons learned during this period:
Shifting Videoconferencing to Cloud-Based Solutions
Traditional, on-site-server-based videoconferencing solutions limit capabilities to specific boardrooms and conference rooms and bring along with them a mountain of complex management tasks for IT teams. Supporting these outdated solutions takes valuable time away from IT teams that could be spent elsewhere.There's a better way.With cloud-based videoconferencing solutions, IT teams can transform collaboration and empower their workforce, providing a simpler way to ensure every employee can join both scheduled and on-the-spot meetings from any device, anywhere, at any time.

These cloud-based systems also cut down significantly on infrastructure costs, eliminating the need for investment in physical infrastructure, particularly in the case of on-site server technology.

With cloud-based systems, the burden of management for IT professionals is reduced significantly, with the added bonus of prepping your organization to work more effectively remotely. This remote efficiency will serve your operation well not only during during periods of disruption, when your employees have little choice, but during times of normal business operation.

Rethinking Physical Meeting Rooms
Eventually, the world will settle into a new normal in the wake of COVID-19 and workers will begin to return to the office. However, social-distancing requirements are likely, at least in some form, to help manage the transition back to physical workspaces. Beyond this period, social distancing or other measures could crop up in the future in response to new disruptions.Currently, the CDC recommends remaining six feet apart, avoiding gathering in large groups, and cleaning shared spaces thoroughly as often as possible.Doesn't it make sense, then, to provide physical meeting spaces that don't suffer from these measures?

Currently, many spaces are ill-equipped for social-distancing measures, with audio and visual equipment that can't capture the totality of a room effectively.

Moving forward, it will be critical to ask these questions – are there enough microphones in the room to pick up audio from every corner without losing intelligibility? Can the camera pan to capture everyone, or are there multiple cameras to assist in this process? How can adapting to social distancing guidelines avoid decreasing the other party's experience on the call?

Renewing Your Focus on Security
With employees working remotely – and these remote capabilities showing the potential to take on a more permanent role in how the world does business moving forward – security is more critical than ever.While using cloud-based videoconferencing solutions and other remote capabilities can empower employees, IT teams need to ensure that they're taking appropriate measures to make sure security keeps pace, such as using a powerful VPN service, encrypting files, using secure methods of communication, encouraging best practices for password changing and physical computer security, and more.

Prepping for Post-Pandemic Success and Beyond
While your organization has been thrust into a temporary, remote "new normal," it's become increasingly clear that the effects of the COVID-19 pandemic won't just fade away as life and work return to a more recognizable form in the months to come.
The pandemic will leave a lasting mark on the way we think about how business is conducted, and the remote capabilities of employees everywhere will be at the forefront of that new approach to collaboration.
To that end, your organization's goals should be rather straightforward.
You must assess the impact of COVID-19 on your operation to find out where improvements can be made, upgrade and invest in both physical and technological capabilities that will allow for a stronger workflow not only in the case of another disruption, but in "normal" operation, and reduce the stress on your IT teams and professionals to allow them to help accommodate these efforts without being overwhelmed by complex and unwieldy solutions.
Latest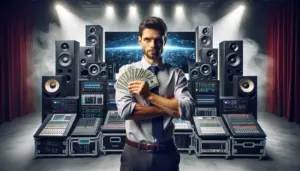 December 8, 2023
Mastering AV sales strategies in a global professional audio-visual (Pro AV) market, poised to reach $79.2 billion by 2028, requires much attention to detail. The surge in demand from corporate, government, and institutional sectors, driven by the need for enhanced productivity and efficient working environments, gives AV sales pros a lot of opportunity. In […]
Read More