Watch: Epson launches PowerLite L-Series, aiming for education and corporate markets
Epson has kept its status as a driver of the laser projection market with the launch of the PowerLite L-Series. The laser projectors offer up to 6,000 lumens of color and white brightness with wireless tech for multiple device connectivity. Epson bills the L-Series as maintenance-free, guaranteeing 20,000 hours of light. With a quick and easy installation that features 360-degree rotation and projection at nearly any angle, Epson's 2018 is off to a good start.
For the latest videos, articles, and podcasts in the Professional A/V industry, be sure to subscribe to our publication!
Latest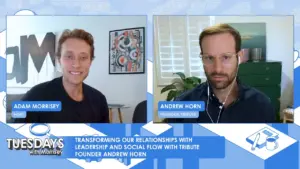 November 28, 2023
Can relationships be transformed through leadership and social flow? Navigating the intricate web of digital relationships can be a tricky proposition. Tuesdays with Morrisey's Adam Morrisey uncovers the transformative impact of emotional recognition in the workplace with Andrew Horn, the mastermind behind Tribute. This podcast edition unravels the story of a platform redefining how […]
Read More