Where Will Pro AV Go Next?
As the Pro AV industry continues to become more widely used, several industries are beginning to see the benefit of AV technology. A prime area of growth is the customer experience, particularly in retail. Videowalls and kiosks in public spaces are increasing in popularity as well. These screens can fit in unique places and showcase innovative technology that engages customers and provides valuable information.
These displays are smarter than ever thanks to AI. The integration with other AV devices can create a one-of-a-kind experience that focuses in on a customer's needs. For example, a kiosk can be programmed to show ads based on the outside weather or current temperature.
Shifting the focus to the AV experience is critical. Aesthetics are nice, but ultimately a product's staying power is measured by functionality. Customers want a service that works and is reliable more than they want what looks exciting visually.
Another trend emerging is haptic technology mixed with AV tools. While e-commerce has revolutionized the shopping industry, there is still something to be said about touching and feeling a product before buying it.
A study from RetailDive found that 56 percent of consumers said they still visit retail stores to first see or touch products before buying online. Creating this experience is challenging for many industries – cosmetics, skincare, realty, and apparel to name a few.
Many companies must simulate the connection and sensations associated with touch by leveraging video tools. One company, realtor Halstead Property, utilizes VR and AR to show clients how a potential home feels – perfect for homebuyers who do not yet live in the same city as the prospective property.
Users will get a sense of what it feels like to open a door, touch a closet or turn on a faucet. It may be virtual reality and not a real touch, but brands and consumers can differentiate between products more efficiently and in a more cost-efficient manner.
Pro AV is no longer limited to standard digital signage. It has already made significant impacts on physical retail and the home-buying market, and may tap into new industries soon.
Latest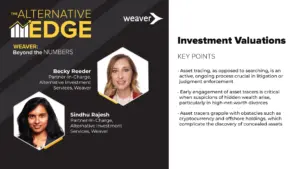 December 4, 2023
In this episode of The Alternative Edge, a Weaver: Beyond the Numbers Podcast, host Becky Reeder, an audit partner and co-leader of the alternative investments practice at Weaver, engages with Sindhu Rajesh, an Alternative Investment Services Partner with Weaver. They unpack the complexities of venture fund valuations, offering critical insights into industry dynamics and best […]
Read More