CDL Pre-Trip Inspections: What Every Driver Needs to Know to Stay Safe
CDL pre-trip inspections are critical to staying safe on the roads. During these inspections, truckers check on multiple aspects of the vehicle, including overall safety, major parts of the truck, and emergency equipment. Commercial drivers are required to inspect their truck and trailer every 24 hours while on the road and record the inspection. Here's what you need to know to ensure your truck is safe for operation and defect free.
Pre-Trip Inspection Requirements
According to the Federal Motor Carrier Safety Administration (FMCSA) § 396.11, a driver inspection report is required for commercial trucks and should cover at a minimum:
Service brakes including trailer brake connections
Parking brake
Steering mechanism
Lighting devices and reflectors
Tires
Horn
Windshield wipers
Rear vision mirrors
Coupling devices
Wheels and rims
Emergency equipment
Further, Section § 396.13 offers further regulations that must be met with a CDL pre-trip inspection, ensuring that the vehicle is safe to drive and to prevent accidents resulting from vehicle defects.
Although these inspections are required by law, this preventative step is still a best practice as there may be a repairable defect to fix then and there. This is a favorable scenario compared to a vehicle breakdown that derails the driver from delivering or picking up your loads and forces costly roadside towing and repairs.
The Value of a CDL Pre-Trip Inspection
Your pre-trip inspection should take around 15-20 minutes. For the inspection to be thorough, you should take your time. Work your way through the list systematically so that you don't forget anything. By inspecting your vehicle meticulously, you are also less likely to get any CSA violations. Finding a problem before an inspector does is always the better outcome. While you may have reservations about the time it takes to complete your inspection––time that could be spent on the road––it's best to see the value of an inspection as being proactive in the care and maintenance of your truck.
Five Primary Parts of a CDL Pre-Trip Inspection
To further delve into the areas that need to be inspected, you should focus on five primary parts as defined in the CDL Pre-Trip Inspection Manual:
Engine components + 1 axle:
Look for leaks, leans, and lights
Check all belts and hoses, steering, suspension, and brakes
Inspect the alternator, water pump, and air compressor
Verify that you have enough coolant, oil, and power steering fluid
Side and back of truck + 1 axle:
Inspect from top to bottom, front to rear with the axle last looking at mirrors, doors, steps, fuel tank, exhaust, cat walk and steps, the frame, drive shaft, rear lights, mud flap, and space
Connections and trailers + 1 axle:
Start at the rear of the cab and end with the kingpin, examining air/electrical lines, fifth wheel assembly, the front, back, and sides of the trailer; and the axle
External light check:
Go for the truck first then trailer
Check to make sure every light is working
In-cab/brake check:
Inspect the 5s, including seat belts, horns, the fire extinguisher, windshield, heater/defroster, and dashboard
Check the parking and service brakes
As you make your way around the vehicle during, you must also inspect the brakes, tires, and wheel end components. This involves looking under the vehicle at the back side of the wheels to check for brake shoe thickness, leaks at the wheel seal, low tread on the duals, or damage to the wheels. These are glaring issues that are flagged frequently for Department of Transportation violations.
As one of the largest commercial tire dealers and retread manufacturers in the U.S., Bauer Built has been delivering services to commercial fleets since 1944 and can complete your pre-trip inspections and necessary repairs at most of our commercial locations. Today, we have locations in 10 states with almost 600 professionals. Commercial truck drivers and fleet managers have trusted us for over 75 years to provide quality products and service. Learn more about our commercial services today and how we can help you stay safe on the roads.
Latest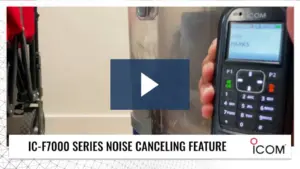 September 27, 2023
In this brief product demonstration video, ICom's IC-F7000 Series receives a mic test of its noise-canceling feature. Through the two demonstrations it is clear the IC-F7000 removes loud ambient noise for clear two-way communication.
Read More