Direct View LED Mounting vs. LCD Mounting: Why & How They're Different
What's the secret to a sleek, well-constructed LED video wall? It's all about the mounting structure. Mounting is vital to a successful installation. Without the proper foundation for your screens, the project won't have the aesthetic or functional requirements you desire. Thus, it's important to understand the different mounting challenges attributed to different kinds of LEDs. The mounting for a direct view LED monitor is not the same as standard LCDs. Each of these displays has unique characteristics. It's not a one size fits all. For the layout to look as expected, there's often the need for custom mounting, which allows for the most optimal digital experience for your viewers. Looking at direct view LED mounting vs. LCD mounting, there are several things to consider, including:
VESA patterns and mounting points
Seamless alignment
Serviceability
Pixel sensitivity
VESA Patterns and Mounting Points
On the back of most LCDs, you'll find a VESA pattern, which is a standard for how to fit mounting to the back of the screen. Because of this, there is little room to adjust these. With LEDs, each manufacture supporting different mounting points and sizes. Since your video wall is a custom build, you'll want versatility in how the screens can attach. A robust, well-suited mounting infrastructure works fine with LEDs, no matter the manufacturer or size.
Seamless Alignment
How often do you see video walls with visible seams? Does it ruin the experience? LCDs don't have the ability to achieve a truly seamless look. Even those with narrow bezels still have a noticeable gap. These gaps may separate words or large pictures and become a distraction with viewers missing your message. Direct view LEDs offer a truly seamless installation. Alignment in your video wall must be exact, however, to ensure all the screens become one. For the best alignment, find a mounting solution that takes into account this requirement.
Serviceability
No matter what space your digital signage display lives in, you need to be able to access it. Your options are limited with LCDs, as all service must be in the rear. Whereas, direct view LEDs offer service in the front, rear, or both. LEDs are the most versatile regarding accessibility and serviceability. This is one factor you should consider from the start of your project. Once you determine what is the best way to gain access, you'll need a mounting system that allows for this to happen quickly and with little disruption.
Pixel Sensitivity
With direct view LEDs, pixels are highly sensitive. Pixels are the source of images, so there's no room for errors in the installation that could damage them. LEDs and LCDs handle pixels differently. LEDs have the superior capabilities when it comes to pixels. Just remember to use an installation process that keeps all the displays aligned. You'll also need a mounting base that holds the screens tightly to reduce pixel breakage.
There are significant differences between mounting direct view LEDs and LCDs. For video wall structures, LEDs are the most popular choice. With its seamless bezel and ease of accessibility, LEDs display vivid, engaging content, all installed with precision. As a leader in video wall mounting solutions and installations, PDS delivers the best video wall framing options on the market, customizable to fit your specific needs. Learn more about our design and engineering offerings for video wall structures.
Read more at pdscustom.com
Latest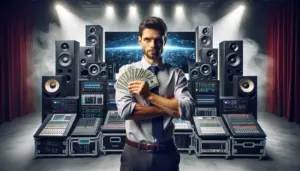 December 8, 2023
Mastering AV sales strategies in a global professional audio-visual (Pro AV) market, poised to reach $79.2 billion by 2028, requires much attention to detail. The surge in demand from corporate, government, and institutional sectors, driven by the need for enhanced productivity and efficient working environments, gives AV sales pros a lot of opportunity. In […]
Read More