Geown: Disrupting the Status Quo of Data Acquisition, Processing and Analysis
Forbes reports that at our current pace, 2.5 quintillion bytes of data is being created each day, and further, that 90% of today's existing data was created in the last two years alone. While technology has allowed businesses to gain access to data like never before, at these rates, companies are finding it challenging to determine what data is most important and will yield the most actionable results. Already being employed in a plethora of industry applications, Unmanned Vehicles (UV) data acquisition removes humans from unsafe and impossible situations while allowing for data collection at a fraction of the cost; however, the effective harnessing of data acquired by UVs is necessary to enable smarter data collection and better decision making.
Geown: Innovative Approaches, Continuous Improvement
Geown Data Solutions' COO Gorka Zarauz sees the current onslaught in data production as both exciting and overwhelming for many companies in countless industries, including geo-mapping. As a geospatial data processing and analysis firm, Geown Data Solutions' business model is indicative of the new ways data is being captured today—using unmanned vehicles, LiDAR sensors and photogrammetry. The Montreal, Quebec & Toulouse, France -based company develops superior tools and leading-edge software that support the accurate acquisition, efficient processing and analysis of quality UV-collected data to ensure effectual outcomes for their clients.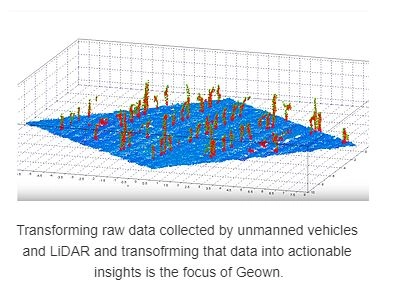 A small but agile company, Geown takes on challenges with a different approach and is always improving its methods. Their products are developed using a test and learn method that begins with a project proposal, providing project scope and feasibility for both the client and Geown in order to best ascertain the superlative solution to accomplish data collection improvement. Geown's agility and capabilities in the geomatics arena is crucial, allowing them to prototype products on an on-going basis to stay current with the rapidly growing pace of industry demand. Further, their focus on AI technology provides better data manageability while improving processes to detect the most valuable information within geospatial data.
About Geown's COO and Team
Holding degrees in Computer Science from the University of Deusto in Spain and an MBA from Winthrop University, Gorka Zarauz has served in senior management and business development roles at 24/7 Real Media, as VP of Professional Services at Xaxis, Senior Director for Publishers at AppNexus, and Chief Quality Officer at Smart AdServer. Further, Zarauz led the management of R&D and commercialization of advertising technologies projects, and software technology development and marketing ventures in the North American, European and global markets before taking on his role with Geown.
With half of its employees heavily involved in research and development, Geown considers itself an R&D company first and foremost. Geown's R&D team comes from the hydrographic world where the data problem is as complex as necessary, so applying their collective 25 years of knowledge and expertise to the UV industry was an organic alignment. Organized into four separate departments, Geown's other branches include software development, business insight and data analytics.
Making the Future Happen Now
Data is only as good as it is useful. Today, there is more data available than ever before, but knowing what to utilize––and how––remains a challenge. Successful companies will be the ones that can make the best use of the massive amount of data available to them, and Zarauz believes the tools to achieve these insights are already in flight.
For most people, UVs and data are a figment of the future; however, Geown sees these tools as both present-day and here to stay. Geown offers high-value software bricks that are integrated into data workflows to provide high accuracy processing for terrain modeling, delivering comprehensive and actionable results to improve critical decision-making. Click here to learn more about Geown.
Latest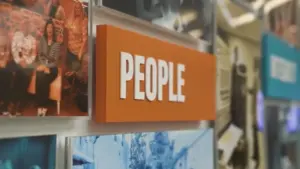 November 29, 2023
At IC System, the language of empathy speaks louder than the transactions of debt collection. In a compelling video feature, IC System's dedicated team casts a spotlight on their unique approach—combining heartfelt empathy with innovative solutions to navigate the often challenging landscape of financial obligations. IC System champions a path of compassion, delving deep […]
Read More