MICRODRONES SHOWCASES END TO END WORKFLOW WITH 3 NEW VIDEOS FEATURING SPATIAL DATA CONSULTANTS
In August of 2018, Microdrones partnered with Spatial Data Consultants (SDC), a full service professional organization specializing in offering a variety of Photogrammetry, Surveying, Remote Sensing and GIS related services. Together SDC and Microdrones collaborated to bring the first mdLiDAR3000 to North Carolina.
One of the benefits of working with Microdrones is that they have streamlined the entire process of operating their integrated systems by creating an easy end-to-end workflow: plan, fly, process and visualize. SDC and Microdrones are pleased to release 3 new videos highlighting the workflow and operations they use to help plan a mission, fly the mdLiDAR3000, and process and visualize the data.
PLAN
SDC is strongly committed to providing quality photogrammetry, surveying, GIS and other related services. They work on a variety of projects including landfills, transportation and other civil engineering needs. The mdLiDAR3000 helps SDC work smarter and get more done. Working with the Microdrones mdLiDAR3000 helps them deliver multiple mapping products to their customers. Check out the video above as SDC's Robert Chrismon, Director of UAS Services and Fred Johnson, UAS Crew Chief, prep the mdLiDAR3000 and plan their flight.
FLY
Once the plan is set for the mdLiDAR3000, Robert and Fred can execute their flight and begin collecting data. Housed on board the hefty md4-3000 aerial platform, is the RIEGL miniVUX-1UAV LiDAR and a Sony RX1RII for recording color values of points. Besides viewing the mdLiDAR3000 in action, the video below also looks at some of the behind the scenes craftsmanship, design and assembly that takes place at the Microdrones facilities outside of Montreal, Canada and Siegen, Germany.
PROCESS AND VISUALIZE:
After the mdLiDAR3000 has landed and the data is collected the end result creates a point cloud visualization in standard ASPRS LAS format usable in any GIS or CAD software environment. The on board camera also provides direct georeferenced images as well as georeferenced scan data simultaneously.
Mark Schall, Chief Professional Officer of SDC, says that their customers and employees are excited about implementing UAV integrated solutions from Microdrones. The final video highlights the visualization of the data in point cloud models and how SDC can create various mapping products for their clients.
Are you interested in making drones a part of your mapping projects? Our friendly, helpful experts are eager to speak with you about your needs! Click here to request a meeting.
Latest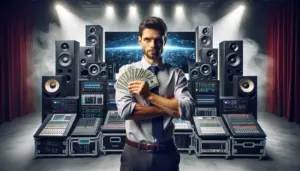 December 8, 2023
Mastering AV sales strategies in a global professional audio-visual (Pro AV) market, poised to reach $79.2 billion by 2028, requires much attention to detail. The surge in demand from corporate, government, and institutional sectors, driven by the need for enhanced productivity and efficient working environments, gives AV sales pros a lot of opportunity. In […]
Read More