The culture of payments: China and the US
'Culture' is never a simple topic to unravel. What defines a culture? Why are two seemingly similar places, or groups of people so distinct? Most importantly, what forces drive a culture? These questions have been researched and debated for decades, maybe centuries.
With all of these unanswered questions, the concept of a "payment culture" is fascinating. Some countries, or regions, are more reliant on cash than others, but the role that culture plays in an area such as payments is foreign to most. It is absolutely critical for payment technology companies to consider a payment culture when strategizing how to approach different markets, and which countries may resist change, or alternatively, be quick to embrace change.
In this blog series, we'll take a look at a few of the most influential, distinctive, and groundbreaking payment cultures in the world, as we seek to uncover what truly drives the "culture of payments".
Through our research, we've found a few characteristics that could influence aspects of a payment culture, but keep in mind there is no hard and fast rule, and every region is distinct.
Self: As much as a culture is the collective 'hive mind' of a group, each individual still plays a part. People are different and distinct, and so, diversity plays a role in every payment culture, the same way it plays a role in every societal culture.
Options: A bit of the "chicken or the egg" dilemma, as the payment options (or lack thereof) can influence the culture, but the culture can also influence the options. The desire for innovation is arguably one of the largest influences on a payment culture, but innovation may prosper in the culture that inspired it.
Education: This does not refer to literacy rates, but rather, the extent to which people are educated on new types of technologies, and the respective adoption rates.
Culture: This may seem counterintuitive at first, but the socio-economic culture of a country, or region, can influence the payment culture of a region.
We will begin this global journey by examining arguably the fastest changing region today, China.
China
China may have been formerly considered a sleeping giant in the past, but in the last few years the country has certainly awoken. Whether it be fashion, food or tech, China is typically known as a country that follows the trends or industry leaders of other cultures. However, when it comes to the evolution of mobile payments, China has led the charge in recent years. In fact, according to PwC, nearly half of all global digital payments in 2017 were made in China.
In most Western countries, the mode of making payments has slowly transitioned from cash to checks, checks to debit and credit cards, and now slowly (very slowly) to mobile payments. However, China skipped a few stages, and like most changes in China, the change came fast. In 2012, 96% of payments in China were still made in cash. In 2018, more than 85% of payments were made via mobile. This statistic alone should provide a few hints as to what influences the Chinese payment culture.
The Chinese market is dominated by two players, who wisely used their dominance in other lines of business to capture the mobile payment market. The market leader is Alipay, which is a subsidiary of Alibaba Holding Group Ltd.. Alibaba is China's answer to Amazon, and Alipay is used by Alibaba's e-commerce network. Alipay owns approximately 55% of the Chinese mobile payment market. Alipay's largest competitor is Tenpay, which is available through China's most popular social media app, WeChat. With more than 1 billion users, WeChat has quickly engrained themselves in Chinese society as the "do-everything app", so in addition to texts and calls made via the internet, users can now pay each other and vendors, using this all-in-one app.
China's fondness for mobile payments has become so pervasive that some vendors in popular Chinese tourist destinations have begun accepting both Alipay and WeChat. Las Vegas casinos, taxis in Australia, and vendors in London's Camden Market have all been accepting payments through these apps. China's global influence and their payment culture, is clearly expanding.
United States
China and the US are constantly being compared when discussing politics, economics, militaries, and sports, so why should payments be any different? These two powerhouses are perfect points of comparison for payments, as their socio-economic differences have steered them in very different directions.
As compared with China, where 85% of all payments in 2018 were made via mobile, in the US, only 20% of people made even a single purchase via mobile. Adoption is growing slowly, but most have little incentive to switch to mobile payments, as they are heavily incentivized to use credit cards. Visa, American Express, and Mastercard have partnered with hundreds of banks and organizations to offer consumers rewards in every category imaginable. Whether it be cash back, travel points, or other incentives, rewards keep Americans using their plastic. In fact, Americans' fondness for credit cards have been steadily increasing for years. In 2018, credit cards officially became the preferred method of payment for Americans, passing debit cards.
Cultures compared
While it's interesting to draw comparisons between each country's popular methods of payment, the 'why' behind these differences are more intriguing. Smartphone market penetration in both countries is quite high, and mobile payments were introduced in the US before they came to China, and yet, China's adopting the technology at a much faster rate than Americans. In fact, in 2018 the Chinese spent 50 times more than Americans through mobile payments despite having just under 4 times the population. So why is this? Of course, there are no definitive answers, but a few researchers have tried comparing the two great nations.
Culture: China is a culture of collectivism, whereas the US prides themselves on their individualism. Collectivism is a cultural value that is characterized by emphasis on cohesiveness among individuals and prioritization of the group over self. This may speak to the influence social pressure has in China's fast adoption of mobile payment technology.
Options (perceived risk): When comparing the two countries' payment cultures, it was also noted that the US is noticeably higher in uncertain avoidance, which significantly contributes to the perceived risk associated with switching to mobile payments. Thus, American users worry more about potential security and privacy breaches, even if the risk is equal to that of credit cards, because credit cards offer fraud protection.
Self: Interestingly, in the US, higher income is more conducive to converting technology acceptance to actual usage, but the opposite is true in China. Thus, those with higher incomes and 'more to lose' in China, are more concerned with privacy breaches and stick to cash, while those with lower incomes are incentivized by discounts and rewards, and convert to mobile payments.
Education: If you remember, at the beginning of the blog, it was argued that education could play a role in adoption, however, the study comparing Chinese and American adoption of mobile payments found no supporting evidence for education playing a significant role.
Companies today must do more than consider price and speed when creating a payment product. They must look to payment cultures for a better understanding of the values specific regions hold dear. As nanopay continues to grow and expand globally, the company has actively traveled the world, attending conferences, meeting with government officials, engaging potential partners, exploring, observing, and learning. In doing so, the company hopes to go beyond technology, and understand the human aspect of payments. After all, the payment industry is not really about technology, it's about people.
To learn more information head to Nanopay's website.
Latest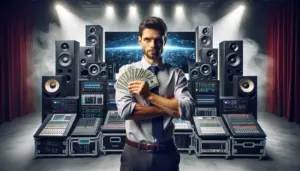 December 8, 2023
Mastering AV sales strategies in a global professional audio-visual (Pro AV) market, poised to reach $79.2 billion by 2028, requires much attention to detail. The surge in demand from corporate, government, and institutional sectors, driven by the need for enhanced productivity and efficient working environments, gives AV sales pros a lot of opportunity. In […]
Read More