The Impact Of Digital Signage On Brand Image
With the increasing presence of digital signage on retail shelves, companies are embracing a strong technological tool for brand expression. One of the major challenges to a successful deployment is utilizing hardware that is capable of presenting content in an eye-catching and dependable fashion. A poorly programmed or broken digital sign can create a highly-negative impression for the brand, in both the conscious choices of the consumer and their subconscious, as well. Cost-cutting during implementation, at the expense of capability, is a risky choice.
A major area of concern is the form of content being displayed on the screen. If a video clip is being streamed, network latency is of the highest priority. If there is sound associated with the presentation, speaker functionality is of the utmost importance. Above all else, there needs to be an active focus on diagnostics and maintenance in order to ensure proper functionality. After all, the way a digital sign functions can be just as impactful as the message its trying to share.
Latest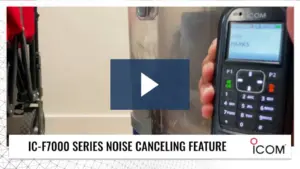 September 27, 2023
In this brief product demonstration video, ICom's IC-F7000 Series receives a mic test of its noise-canceling feature. Through the two demonstrations it is clear the IC-F7000 removes loud ambient noise for clear two-way communication.
Read More