Maryland makes $8.5 Billion Bid For Amazon HQ2
Among the 20 finalists for Amazon's second headquarters, Rockville, Md. is in the lead in at least one category: the incentives package. Titled the PRIME Act, the Maryland legislature has approved a plan that provides "a Fortune 100 company" with a set of tax incentives based on the number of jobs created.
The Baltimore Sun reports House Majority Leader C. William Frick, a Democrat from Montgomery County, as saying that Amazon, "is the single most important company in the future economy," and called the deal, "the single most important economic project" to ever come to Maryland. Republican Del. Robert B. Long says that, "This is a vote for the future of Maryland's economy," arguing that, "This is not corporate welfare. They have to give us jobs before they get anything. It's a no-brainer."
According to Construction Dive, the PRIME Act would mean that Amazon—whose membership program is not coincidentally called "Prime"—would get a $6.5 billion bundle of tax and other incentives, "if it submits to the state's commerce department a plan for at least 17 years that involves a minimum of $4.5 billion in specified investments and the creation of at least 40,000 positions with an average salary of $100,000 each." In addition, the legislature promised an additional $2 billion in road improvements around the new facility.
A study by the commerce department reports that Amazon's second headquarters will contribute $17 billion annually to the location state's economy, as well as $8 billion in annual wages for the estimated 50,000 new employees. That's on top of Amazon's initial $5 billion investment. While many may still consider $6.5 billion in incentives to be corporate welfare—especially for a company the size of Amazon—proponents prefer to view it as an investment with some very significant and practically certain positive returns.
Latest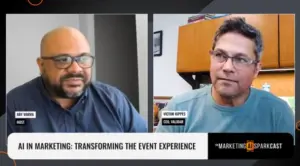 November 28, 2023
AI has been gradually changing the landscape of event technology at a very rapid pace. In an industry where staying ahead of technological trends is crucial, AI's impact on marketing and event management has become increasingly significant. As witnessed in the rise of account-based marketing and enhanced personalization, AI is effectively reshaping how events […]
Read More