NRF 2020: Personalization, Data and Demystifying Omni-channel Retail
NRF 2020 Vision: Retail's Big Show is an opportunity for industry leaders to gather in New York City and discuss the latest topics and trends.
Miya Knights, Head of Industry Insight at Eagle Eye Solutions, talked to MarketScale's Geoff Short about personalizing the brick and mortar experience and implementing an omni-channel approach to retail.
"Consumers have basically said we know you're hoovering up data about us because we transact with you online. We want you to demonstrate that you're using that data to give us a really good experience in the store," said Knights. "The bottom line is they want to be incentivized and treated better than a one-time anonymous customer when they come into the store. It's going back to that old-fashioned concept of the store manager knowing you."
As technology and data have become more widely available in recent years, the possibilities for implementing strategies that bridge the gap between e-commerce and brick and mortar retail experiences have grown.
"I always quote…2017 research by Harvard Business Review. I still rate it because they surveyed 47,000 consumers and they found those consumers who shop across multiple channels are worth 10% more per visit online and 4% more in-store," said Knights.
Stay tuned to MarketScale Retail for the latest thought leadership from NRF 2020!
Latest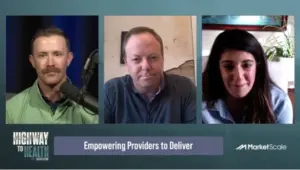 December 6, 2023
The healthcare industry is undergoing a significant transformation, driven by the need to improve patient experiences, access, and outcomes. Amidst this shift, contract lifecycle management (CLM) is emerging as a critical tool for healthcare providers. With the increasing pressure on cost management and compliance, healthcare organizations are seeking solutions that streamline operations and enhance […]
Read More