Why the Largest U.S. Retailer and Other Industry Giants Are Taking an Aggressive Stance With Suppliers
Retailers like Walmart, Costco, Target, Home Depot, and many others are negotiating prices with their suppliers in categories stretching from food and household consumables to electronics and other durables. This is not new. Recently, however, the arguments and direction of the negotiations have shifted. Tim Smith, CEO, Wiglaf Pricing gives his perspective on the recent stance that big-name retailers are taking with their current suppliers:
"So retailers from Walmart to Costco to Albertson's, Home Depot, Lowe's, you name it, across the board, they're all negotiating with their suppliers, with their CPG partners, and they're all asking for lower prices. This is not new. This is a normal part of business.
Now for recently, the arguments they're using and the direction in which these price negotiations have shifted. Let's focus on the arguments first, and in the past two quarters, some of the challenges facing supply chains have been addressed, for instance, back in 2021 compared to today in late 2022, the cost of shipping a container on the spot market from China to LA has dropped roughly tenfold. Other costs of logistics have dropped tremendously, precipitously in the past few months. Take a look at labor. Some of the labor challenges of having insufficient labor simply to cut up meat at Tyson or other meat packers. Those challenges have been addressed or reduced."
Latest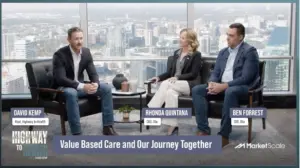 December 7, 2023
As of recent times, the healthcare industry has been progressively shifting towards value-based care, a model that emphasizes patient outcomes over the quantity of services delivered. This transition represents a significant shift that promises to enhance patient experiences and outcomes while controlling healthcare costs. With a growing emphasis on this approach, especially over the […]
Read More