The Biggest Events This Week in B2B
Industrials lead the way this week with FABTECH taking place in Chicago, Illinois from November 11-14.
FABTECH is North America's largest metal forming, fabricating, welding and finishing event, so expect more coverage from the show as it unfolds.
Also running from November 11-14 is Teams '19.
The conference focuses on sports-event management and this year it will take place in Anaheim, California.
The conference is also an important one for food and beverage hospitality professionals.
Sports-related travel and events are responsible for 88 million hotel room nights and $31 billion in direct spending each year, according to the conference.
And lastly, the National Science Teaching Association is hosting a conference in Cincinnati, Ohio from November 14-16.
The event's keynote speaker is Luke Dollar, National Geographic explorer and adjunct professor at Duke University.
Attendees will be able to choose among three major conference tracks depending on their specific goals, so there should be something for everyone this week.
Latest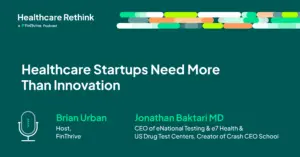 December 11, 2023
Healthcare startups need more than innovation; they require dynamic leaders willing to take these endeavors beyond the ordinary into uncharted waters to generate unparalleled success and lead the industry forward. In the latest episode of The Healthcare Rethink Podcast, host Brian Urban sits down with multifaceted healthcare leader Jonathan Baktari, MD, CEO of eNational […]
Read More