5 MORE Questions You Should Ask Yourself When Budgeting for a CMM
If you're a manufacturer then you're all too familiar with the importance of meeting specifications when it comes to Quality Assurance. Measurement errors are a common reason why products fail to meet specifications, which is why it's a good idea to integrate a coordinate measuring machine (CMM) into your operations to ensure pinpoint accuracy. We've previously covered the Top 5 Questions to Ask Yourself When Budgeting for a CMM, now we're expanding the topic to include 5 MORE questions you should ask yourself before establishing your budget.
Will this CMM meet my standards and regulations?
ISO compliance ensures that the machine meets international standards for reliability and quality. In order to safeguard your investment, it's wise to purchase a CMM that is ISO 9001 compliant, and also meets your company's standards and regulations.
Will this machine be environmentally friendly and cost-efficient?
A CMM with eco-friendly features can reduce power consumption when the machine is idle to improve energy efficiency, promote sustainability, and support productivity goals without impacting machine performance. Not only is a power-saving option good for the environment, it's good for the bottom-line by reducing electricity costs.
How will I train personnel on the machine?
Integrating a CMM into your workflow will require your team members to be trained on the machine. Ask what type of training your CMM supplier provides and the associated costs, if any. A good supplier will not only offer free training, but also provide supplemental resources (likely online) that your staff members can turn to when they need to find solutions to challenges.
What are my financing options? 
Determine the best method for purchasing your CMM: by using capital, acquiring a loan, or other financing vehicle. A reputable CMM manufacturer should be able to provide easy financing options, as well as rental or leasing options
What is the installation/transition period?
Time is money so you'll want to get your CMM up and running as quickly and seamlessly as possible. Be sure to ask your CMM supplier how long it will take, not only to install the CMM, but to train the staff on it. A short transition period will help your organization avoid costly operational downtime.
By asking the right questions up-front, you can better manage your CMM budget and purchase a machine that best meets your operational and financial needs. Hexagon Manufacturing Intelligence manufactures a wide selection of high-quality metrology instruments. To learn more about the CMM solutions that we offer, check out our coordinate measuring machine page today!
Read more at hexagonmi.com
Latest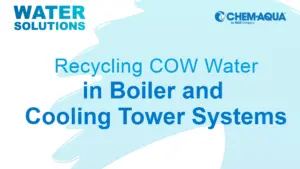 December 7, 2023
For the latest episode of ChemAqua's Water Solutions podcast, the focus was on an innovative approach to water conservation in the dairy industry. The show examined the potential of reusing Condensate of Whey (COW) water, a byproduct of dairy processing, and highlighted some of its economic and environmental benefits. Hosted by Dani Waddell, the informative […]
Read More