5 Signs IT Might Be Holding You Back
It's a common problem. After years of hard work growing your business, you're finally connecting with your target audience and becoming a real player in your market. Now it's time to grow. But scaling your business presents a whole new set of challenges. Time spent growing the business can lead to a lack of focus on IT. But spending time addressing IT concerns robs you of precious time required to grow your business. If you lack the technology or the resources to scale IT painlessly – or if you're unsure if IT can scale – it might be a good time to look at working with a local managed services provider.
Here are 5 signs that IT might be holding you back:
It's taking way too long to reconcile financials at the end of each month: The first signs of IT trouble will often come from accounting. If employees are still manually entering invoices and sales orders into multiple accounting and sales systems, they are wasting valuable time on tasks that more integrated cloud software or apps could handle with the push of a button.
Sales forecasts are largely based on guesswork: You can't plan the way forward if you don't know where you currently stand. How long would it take you to obtain key performance indicators like your average sales margin, orders per day, or sales to date? If your company is currently using spreadsheets that need to be constantly updated and reconciled manually, your sales metrics could already be out of date by the time you receive them. It's important to have real-time, accurate data readily available to make important business decisions. There are a number of cloud based solutions that can be integrated with almost any legacy system you may already have in place.
Network performance is slowing down to a crawl: Online webinars, video conferences, and screen-sharing meetings are an everyday occurrence. In addition, business applications, such as QuickBooks, Adobe Creative Cloud, Salesforce, Google Apps, and Office 365, reside in the cloud. If you're increasingly experiencing lag time, freeze-ups, WiFi issues, or challenges in file sharing, your customers, prospects, and stakeholders may lose confidence in your ability to grow. A local Managed IT Services company can audit your network and various business applications and recommend and deliver the proper environment for your business.
Collaboration is being impacted: To grow a business quickly, collaboration is crucial. If folks are more comfortable assigning tasks and scheduling meetings in the body of an email or sending important files as attachments, this could be a red flag. With no versioning or access control, employees can never really be certain they have the latest or most complete information to make decisions. Matching the right cloud service to the workload can help make collaboration a breeze. There are many great, cloud-based business tools available these days such as Office365 and Google G-Suite that allow for easy collaboration. Your local MSP can help you find the right one, integrate it and train and support your employees.
There's lots of different technology for different purposes: If you have multiple systems including hardware, software, and cloud apps across your business, IT management can quickly become a nightmare. These various systems "islands" are often not intelligently integrated or connected, require varying levels of security, and are managed in disparate ways. Customizing, integrating, and maintaining these systems with patches and upgrades can be complex, costly, and monopolize critical time and resources.
Every company is unique, so there's no single indicator that says, "IT is holding you back!" But if these warning signs feel all too familiar, you could benefit from partnering with a local Managed IT Services Provider (MSP).
Here at Cima Solutions Group, we understand many of the challenges small businesses are faced with it. After all, we're a small business too! We've helped many Dallas area small businesses simplify their infrastructure, improve their IT operations, and increase their system availability.
Our goal is help local small to medium sized businesses achieve their goals by enabling them to focus on what's most important to their business. We can help remove some or all of the burden of IT through our Managed IT Services.
Read more at cimasg.com
Latest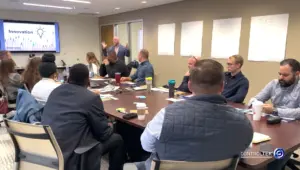 December 4, 2023
The video captures highlights from the CONTROLTEK Design Thinking Workshop specifically tailored for Burlington Stores. It shows interactive sessions, engaging group activities, and innovative brainstorming, emphasizing CONTROLTEK's commitment to developing customized retail solutions in collaboration with the Burlington Stores team.
Read More