Is Your Business Up to Date in Its Compliance Reporting?
No matter the size of your business, data compliance is essential. It's not just a good business practice, it also helps ensure adherence to regulations for federal, state, and industry standards. If your organization isn't in compliance, it risks huge fines and other consequences to its reputation. In addition to compliance, it's also critical to keep your data secure and protect sensitive information from being read, copied, revised, or deleted by cybercriminals or thieves. While large companies employ teams of IT professionals to manage compliance, SMBs may not have in-house experts. That's why it's a great idea to partner with a managed IT services provider like Cima Solutions Group.
Small businesses have lots of data that needs to be accessible but secure. There are two broad classifications of data: at rest and in motion. Data at rest, for example, archived financial data, is not being actively used and is sitting in a database or other construct. Data in motion is moving and traveling throughout a network, such as when you are processing a customer's credit card transaction. Your business must keep both kinds of data secure through the use of several factors like encryption, redaction, and ensuring devices or networks are secure.
One of the biggest culprits of noncompliance is not regularly backing up files. Entrepreneur Magazine recently reported that 62% of small businesses fail to routinely backup their data. This type of misstep in compliance can actually cost your company. CSO Online cites a report from Kaspersky Lab that says in 2017 the average cost of a data breach in North America was $117,000 for small and medium-sized businesses. This kind of expense could be devastating to a small business.
When determining compliance obligations, you must know what the rules and regulations are at the state and federal level. There may also be specific guidelines for industries. Healthcare providers, for example, must abide by HIPAA regulations, and organizations dealing with federal information must comply with FISMA. There are credit card data standards as well, such as PCI DSS, a data transfer standard that is used to ensure the security and privacy of the transfer of financial information. Finally, Intuit suggests organizations have internal compliance guidelines, including accessibility, security, and virus protection, to name just a few. Internal compliance guidelines may be industry-specific as well, such as anti-money laundering initiatives in the financial services industry or protecting patients' privacy in a healthcare facility.
Being in compliance with your data isn't a choice nowadays – it's mandatory. If you don't currently have practices in place to adhere to regulations or haven't kept them updated, we recommend scheduling a compliance check-up. The good news is you don't have to go it alone. CimaCare Managed IT Services helps small businesses remove the burden of data compliance. The team at Cima is here to enable your small business to comply with data requirements with ease, and for much less than hiring an internal team. At Cima, we help manage, update, secure, backup, and scale your IT. You need the technology but you don't need to manage it.
Explore all of CimaCare's Managed IT Service solutions today and get the compliance check-up your business needs at cimasg.com/solutions/managed-it-services/.
Read moer at cimasg.com
Latest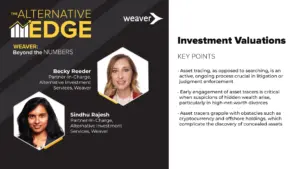 December 4, 2023
In this episode of The Alternative Edge, a Weaver: Beyond the Numbers Podcast, host Becky Reeder, an audit partner and co-leader of the alternative investments practice at Weaver, engages with Sindhu Rajesh, an Alternative Investment Services Partner with Weaver. They unpack the complexities of venture fund valuations, offering critical insights into industry dynamics and best […]
Read More