Disrupting the Traditional Outsourcing Model
Key Insights:
SMC Squared builds productive, team-fitting IT hubs for US-based and multinational companies.
These hubs are rich with talent and provide companies with a cost advantage.
Having a trusting relationship with partners is key to success in the industry.
---

Patricia Connolly recognized the need for change in an industry grappling for movement: outsourcing. As CEO and Founding Partner at SMC Squared, she has transformed the industry by providing quality global capability centers for US-based and multinational companies at a cost advantage filled with knowledgeable talent focused on team outcomes.
As companies turn to find answers in their workforce in the upcoming years, SMC Squared is ready to answer.
Read Patricia's Thoughts:
My name is Patricia Connolly. I am the CEO, and one of the founding partners at SMC Squared based here in Dallas. We are kind of a specialized niche firm that deals with global talent building global capability centers for US-based and multinational companies. We've had great success over the last five years because we've looked at the overall talent outsourcing and contracting model and decided there were a number of things that we wanted to change.
So we went to market, building an alternative for organizations so that they can build their own teams. IT hubs that are built in a global setting, taking advantage of talent that is rich in experience, but also providing them a cost advantage. We are seeing big trends in this situation this year, because of COVID.
Of course, with everybody working from home now, organizations are trying to figure out what do we do? How do we bring people back to the office? So, this hybrid work strategy is the big question that everyone is dealing with and our strategy is helpful in this because we do allow for flexibility for team members to work from home or work flexible schedules and help also to bridge this into a global workforce strategy for US companies. When you have the opportunity to be flexible and understand how to meet your objectives with a global team that is employee-based, we are able to really make a difference for the companies that we work for. So the trend in coming back to work and all the questions around it are something that are front and center in our mind not only how do you execute it, but how do you bring value to companies while you're going about this change?
We are really unique in our industry because we have focused from the beginning on trusted relationships. And I think in the industry over the last couple of years, with all of the risks and the situations that have occurred worldwide, really bring to bear this question of who are you working with and it, and do you believe in them and is it a trusted situation?
So we're really here to make sure that we're listening to the companies that we work with and we're putting people first. We've always really felt that that employee-centric workforce has always been the best, not only productivity answer, but it really brings to bear the right answers from a recruiting and also from a retention standpoint.
We are excited about the year to come for sure. 2022 is bringing us great growth. As companies are trying to figure out what tools they have in their toolkit for talent and companies like Callaway Golf and Papa John's and DigiKey Electronics, to name a few, have chosen to go ahead with global capability center strategy instead of outsourcing, instead of contracting for all of their global talent to really bring, to really bring to bear the best employees possible.
We're seeing many organizations choose us over the Big Four or the large global services companies because they want more personalized experience. They want to recruit their employees to fit. And that's what we bring in is this expertise on bringing the right talent together from a technology standpoint, from a culture standpoint, and really to work right next to your team members in the US on board with your objectives.
It's a formula that's worked and has been a tremendous value to many. And we're bringing this forward as a model that's available – not just to super large organizations that we've seen in the past bring together global teams successfully – but even smaller organizations, midsize organizations that don't really have the market pull perhaps to attract great talent, they think. But we really changed that around for them and help make sure that we're recruiting to fit a great team.
Latest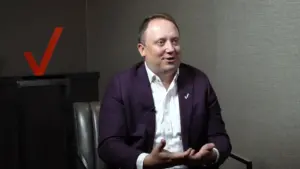 December 1, 2023
For a special episode of The Verizon Partner Network the focus was on the considerable role of partnerships in the Verizon Partner Program and the leaders shared their perspectives on the initiative. Their conversation brought about a lot of thought-providing context on the evolving telecommunications landscape. In today's era, collaboration and integration are key to […]
Read More