How Combining Drones and Data Creates Unexpected Solutions
Both pilots and companies are navigating a thin line between security and innovation. Host Grant Guillot talks with leaders, influencers, and experts across the drone industry to guide us through the complex web of technology and policy in the United States.
Data is an enterprise's most valuable resource; however, that doesn't mean it's easy to collect and process. That's especially true for drone data. New technology is changing the game. Discussing the importance of data in drone evolution, Drones in America host Grant Guillot spoke with Romeo Durscher, VP of Public Safety at Auterion. Auterion provides an open-source drone platform.
Durscher is new to Auterion. He spent six years at DJI and 12 years at Stanford University working on NASA projects.
"I'm happy to go back to my roots at Auterion, working on something to allow enterprise customers the ability to scale up. It's hard to do that without integrated data workflows," Durscher explained.
The challenge with managing a fleet and data collection is that entities use various drones with different applications. "Most have multiple size aircraft for missions, so that's more platforms and sensors. So users need to be able to switch seamlessly via integration and one platform," Durscher added.
The answer to easier management and keeping the data pipeline moving is a standard user interface that works with any device. Durscher also spoke about the public safety element, an area of the industry in which he's an expert.
"For public safety, live video feed is helpful. It allows for quicker, better decisions. That data can then flow into incident management software. The data goes directly into the platform and starts processing. You don't ever have to touch it." Durscher said.
Conversely, without such a platform, users depend too heavily on SD cards, which was the data storage vehicle. It's not sustainable or scalable. "Standardizing data collection and workflows is necessary. The importance is in the data, so a drone's brain should be integrated a flight controller, mission computer, and connectivity."
More About Romeo Durscher
Romeo Durscher is Vice President of Public Safety at Auterion, the premier operating systems for commercial drones. Born and raised in Switzerland, Romeo came to Auterion after 6 years at DJI, where he built the public safety vertical and has become one of the trusted leaders and evangelists in small Unmanned Aircraft Systems integration and deployment. Prior to joining the drone industry he spent 13 years at NASA's Solar Dynamics Observatory.
As part of his work advising first responders and humanitarian organizations, collaborating with R&D teams on hardware and software solutions and expanding the drone ecosystem, Romeo has actively participated in drone
missions for search and rescue operations, natural disasters, such as the Tubbs, Carr and Camp Fires in California, emergency responses & various training exercises. He has led global partnerships like with the European Emergency Number Association (EENA), which has developed protocols for public safety officials to integrate drones into their workflows.
Commercial UAV News named Romeo one of the 25 most influential people in the commercial drone industry, as well as one of the top 7 drone visionaries in emergency response & public safety. Romeo has appeared in media forums from ABC's Good Morning America to Wired magazine.
Romeo can be found on Twitter at @RomeoCH.
LinkedIn: https://www.linkedin.com/in/romeodurscher/
Auterion: www.auterion.com
Follow us on social media for the latest updates in B2B!
Twitter – @MarketScale
Facebook – facebook.com/marketscale
LinkedIn – linkedin.com/company/marketscale
Latest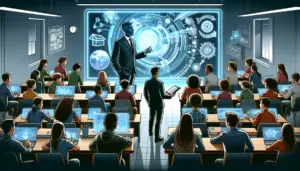 November 27, 2023
In an era where education stands at the crossroads of tradition and innovation, the potential value of thought leadership becomes the guiding star for progress. "Just Thinking" dives into this potential with host Kevin Dougherty and guest Evan Edwards, a Professional Learning Specialist at 806 Technologies who exemplifies the transformative impact of visionary guidance […]
Read More