Educating and Guiding the Burgeoning Drone Industry: Drones In America
Welcome to this week's episode of "Drones in America," a MarketScale podcast hosted by Grant Guillot.
Guillot leads the Unmanned Aircraft Systems Practice Team for Adams and Reese, a law firm that practices across the Southern U.S. and in Washington, D.C.
On "Drones in America," Guillot and industry leaders, influencers and experts will explore the rapidly growing commercial drone industry in the U.S., guiding you through the complex web of technology, policy and more.
This week, Guillot was joined by Darshan Divakaran, Founder and President of AIRAVAT, LLC. AIRAVAT works with commercial and government clients to provide UAS program integration, flight training and safety operations.
Guillot and Divakaran discussed Divakaran's history in both the commercial drone industry and aerospace (Divakaran is a commercial pilot), the struggle to provide widespread, base-level knowledge about drones and overcome a lack of education, demystifying regulations, and more.
In 2014, when Divakaran first became involved with drones, the industry was taking its first steps.
"That was the time when people were unsure about this technology," Divakaran said. "They were not sure if it was a toy or really a technology."
After being absorbed into the rapidly growing world of unmanned flight, Divakaran has now committed to helping agencies learn about and leverage a technology that's clearly here to stay.
"Education is what is lacking," Divakaran said. "We can see this in many states with how slow the progress is. … The technology is not being used to its max capacity."
Join host Grant Guillot of the law firm, Adams and Reese for Drones in America with new episodes available where ever podcasts are found.


For the latest news, videos, and podcasts in the Software & Technology Industry, be sure to subscribe to our industry publication.
Latest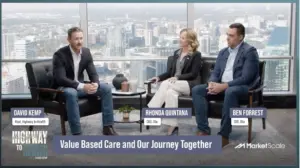 December 7, 2023
As of recent times, the healthcare industry has been progressively shifting towards value-based care, a model that emphasizes patient outcomes over the quantity of services delivered. This transition represents a significant shift that promises to enhance patient experiences and outcomes while controlling healthcare costs. With a growing emphasis on this approach, especially over the […]
Read More