For Fuel Centers, Digital Media at the Pump Boosts In-Store Sales
In today's digital world, Americans have grown accustomed to consuming digital media practically everywhere – with signage in stores, airports, stadiums, metro stations, and even bus stops that now have the capacity to broadcast content to waiting passengers. Another popular frequented area that serves as an excellent space for displaying media – fuel centers. Automobile drivers filling their cars at gas stations make great audiences for convenience stores looking to show advertisements and promotions. Broadcasting media at the pump gives c-stores a tremendous opportunity to lift in-store sales and establish brand loyalty. Engaging customers at the pump with vibrant media displayed on large, colorful screens drive foot traffic into c-stores and has demonstrated the ability to increase the sale of promoted items by an impressive 39%.
AvaLAN is a world-leading supplier of secure and reliable wireless solutions for fuel centers, with the AvaLAN Wireless Link for EMV designed to support bandwidth for Marketing at the Pump. Connecting gas pumps with high-speed, secure wireless Ethernet gives fuel centers the ability to deploy a streaming advertising network, allowing stations to boost traffic into stores for a fast ROI on the integration of the technology. This forecourt marketing strategy ties into a company's loyalty platform by enhancing customer engagement. The media terminals can also display food menus that allow customers to order items and pick them up inside for a quick, frictionless experience that promotes higher guest satisfaction.
The AvaLAN solution features rapid, plug-and-play, installation that requires no costly and disruptive trenching. The high-speed wireless Ethernet technology provides a robust and reliable connection, all without the need to invest in expensive and complicated wired cabling. Advanced encryption technology ensures the security of the network and digital content.
Integrating digital media networks at fuel stations is proven to convert gasoline-only buyers into convenience store customers. According to a recent survey, 68 percent of the fueling station industry's gross profit dollars derive from in-store sales, so enticing customers to step inside the entrance doors is a must-have strategy for generating revenue. Leveraging the AvaLAN Wireless Link for EMV to target customers with advertising media at the pump helps to recoup the initial investment in the solution and promotes financial success for years to come.
Read more at avalan.com
Latest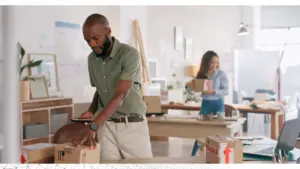 November 29, 2023
While the logistics industry often gravitates toward cutting-edge technology, Wesley Boyce, an Assistant Professor of Practice in Supply Chain Management and Analytics at the University of Nebraska-Lincoln, brings to light the enduring significance of radio communication. In a world enthralled by digital innovation, he argues that the simplicity of radios could be their greatest […]
Read More