How Drones Can Assist with Project Management During the Covid-19 Pandemic: Drones In America
Welcome to this week's episode of "Drones in America," a MarketScale podcast hosted by Grant Guillot.
Guillot leads the Unmanned Aircraft Systems Practice Team for Adams and Reese, a law firm that practices across the Southern U.S. and in Washington, D.C.
On "Drones in America," Guillot and industry leaders, influencers and experts explore the rapidly growing commercial drone industry in the U.S., guiding you through the complex web of technology, policy and more.
In this week's episode, Guillot is joined by Frank Segarra, President and CEO of ConnexiCore.
ConnexiCore is a nationwide commercial UAS Drone Solutions Provider with a deep network of expert (FAA) pilots, solution architects, and business process consultants across the United States. It specializes in drone aerial data collection, image & video analytics, drone telepresence, and aerial mapping services.
ConnexiCore is a full-service provider, explains Segarra, providing "everything from the drone services to the data analytics to the full-blown training and consulting to be able to bring organizations up to speed and get their own drone operations up and running …"
Guillot and Segarra discuss Segarra's beginnings as a CB radio hobbyist. Segarra, at a young age, caught the attention of the FCC when he was able to reach listeners in Australia, South America and the Caribbean. The FCC gave the young Segarra, who did not possess an FCC license, a pass, but his early experiences led to a lifelong interest in technology.
Segarra recalls an earlier drone mission his company, ConnexiCore, undertook at the request of an insurance adjuster, who sought information regarding the extent of crop damage caused on a farm by a cattle stampede. ConnexiCore flew a drone over 1,000 acres of farmland and utilized thermographic imaging, 3D imaging, and orthromosaic photography to provide a report of the crop damage.
"A lot of drones will do real-time monitoring of job sites, and a site supervisor may not have to go out and inspect the job," Segarra says, noting that the construction and engineering industries are among the sectors most frequently served by ConnexiCore.
Segarra adds that drones can also help mitigate the risks associated with dangerous jobs, identify hazards and enhance safety before a the commencement of a construction project, allow information to be provided to project managers and stakeholders in a quicker fashion, and track assets in a manner that improves the efficiency of workflow.
Segarra also explains how drones are uniquely capable of assisting with construction management during the Covid-19 pandemic. "You can [conduct construction management and inspections] with the drone and stream that video either in real-time time or send that video to [project team members and/or stakeholders] on a link, which…with everything that is going on today with the coronavirus and SARS and terrorism, a lot of people are being strongly advised not to travel," Segarra says. "So if you could get inspections done and you can use a drone that's onsite to take care of some of these problems that are solved by drones, you're actually helping the situation out right now."
Join host Grant Guillot of the law firm, Adams and Reese for Drones in America with new episodes available where ever podcasts are found.

Latest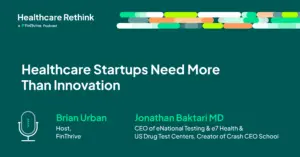 December 11, 2023
Healthcare startups need more than innovation; they require dynamic leaders willing to take these endeavors beyond the ordinary into uncharted waters to generate unparalleled success and lead the industry forward. In the latest episode of The Healthcare Rethink Podcast, host Brian Urban sits down with multifaceted healthcare leader Jonathan Baktari, MD, CEO of eNational […]
Read More