Why Touchless Displays Are A Hygienic Way to Combat Viruses
We've all been impacted by COVID-19. Some of us may know someone who has had it, while others may still feel the virus is a world away. No matter which group of people you may fall into, hygiene, cleanliness, and the slowing of the spread of the virus has become top of mind for all of us. This is especially true if you are a worker in a healthcare facility or a member of the management of one. Doctors, nurses, hospital facilities managers, and even healthcare CEO's are now constantly searching for ways to keep their personnel and patients safer, both now and into the future. One of the ways to do this is with touchless displays in their facilities.
The obvious uses for touchless interactive displays still include healthcare settings, but here are a few other examples of healthcare use:
Lobby distraction: Touchless displays in hospitals, clinics, and redi-care centers. These could be done in a variety of sizes, from entire walls down to the size of a computer monitor or small tv.
Touchless hospital, emergency room, or clinic check-in.
Touchless gaming in patient rooms – especially pediatric rooms.
Touchless ER Displays, similar in size to a T.V where impacted patients could still be entertained without touching their TVs.
Touchless Kiosks
Quarantine areas where future transmission of a virus is imperative.
Additionally, Bluewater isn't stopping with healthcare facility uses in the wake of a pandemic. They have used similar "storywall" concepts in corporate spaces, as well. Read more about these use cases on their blog in articles entitled, "Cutting-Edge Tech: Touchless Interactive Walls" & "Corporate Branding & Communication with Storywall." Now it's time to take the corporate concept beyond the traditional uses and help companies in need of a touchless display to use in a variety of ways within their facilities. Some potential uses could include:
Touchless lobby check-in: Allow visitors to your office or business to check-in with a touchless screen, while practicing social distancing from anyone else in your lobby, including your front desk staff.
Touchless check-in at fitness centers.
Gamification of any lobby space. We'll even build additional games for you that are on-brand and appropriate for your company or space. We have an in-house software team that can really bring this use case to life.
Technology built into a kiosk or even an "ordering station" to provide touch-free ordering at restaurants and other quick-serve spaces, such as coffee shops.
If touchless display technology is not at the forefront of your needs, Bluewater also has additional concepts and technologies for global disruptions, such as a pandemic. They are offering temporary support, including a local studio to broadcast remote or virtual meetings, the production of those meetings, or even temporary video conferencing kits. Additionally, permanent infrastructure solutions are available that cater to the immediate needs during an outbreak like COVID-19, but also serve a long-term purpose beyond the immediate period. Virtual experience centers, quick-deploy video conferencing, and video enabled small conference spaces to accommodate social distancing are at the forefront of this offering. Other implementations are also possible; such as digital collaboration tools for your remote workforce, or even digital signage sold on a monthly subscription, because they know cash flow for your business is important during times like these.
Latest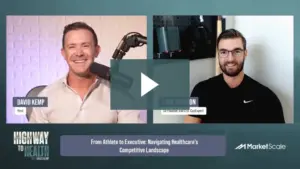 September 28, 2023
Navigating healthcare's competitive landscape requires innovative solutions addressing care quality and affordability. CapExpert is a game-changer in outpatient healthcare. It enhances asset management, ensuring the best care for patients. Luke Johnson, Co-Founder and CEO of CapExpert, spoke with Highway to Health's David Kemp on how CapExpert enhances asset management, bridging visibility gaps and streamlining […]
Read More