Strategies for Improving the Quality of Video Conferencing
Video conferencing has rapidly evolved in the last decade. Further increasing usage was the COVID-19 pandemic, which called for more conferencing needs as lockdowns limited in-person meetings and gatherings. It has and continues to be a massive part of the lives of everyday Americans, per Pew Research. As record numbers of people use video conferencing tools, improving functionality has become a priority for many companies.
As users and companies determine the necessary improvements needed for many video conferencing tools, it also raises the question that even as companies work to make changes from a collaboration perspective, other issues still need to be solved. What are these issues in particular?
On "Tech Unraveled," hosts Josh Herring and Lianna Russell interviewed Jordan Owens, the VP of Architecture at Pexip, and Justin Longo, the company's Channel Sales Manager. The four discussed the evolution of the video conferencing industry.
The four also discussed:
Common complaints from users about video conferencing tools and improving them
Security concerns and data breaches with the increased usage of video conferencing
The challenges in video conferencing technology and solutions
"What they don't solve directly is this idea of, 'How do I allow a customer to migrate into this modern meeting solutions and yet still leverage the equity that they've already invested inside of other collaborative solutions,'" said Owens.
"One of the interesting things about Pexip, in general, is a lot of the times we like to steer conversations outside of just the conference room, and talk about, again, how people are using technology to augment their lives," said Longo.
Jordan Owens is the VP of Architecture at Pexip and attended Virginia Tech. Justin Longo is the company's Channel Sales Manager and has been working there since 2020. He attended Saginaw Valley State University.
Latest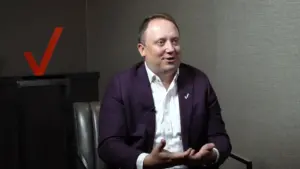 December 1, 2023
For a special episode of The Verizon Partner Network the focus was on the considerable role of partnerships in the Verizon Partner Program and the leaders shared their perspectives on the initiative. Their conversation brought about a lot of thought-providing context on the evolving telecommunications landscape. In today's era, collaboration and integration are key to […]
Read More