Leading With Transparency in Times of Crisis
Bringing together leaders, lawmakers and lawbreakers. Host Luke Fox explores how innovations in business and technology are redefining our trust in security measures.
To say that Juliette Kayyem, CEO, Grip Mobility has a pretty impressive resume is an understatement. Kayyem spent the last two decades in both state and federal government, managing complex policy initiatives and organizing government responses to major crises. As a professor at Harvard Kennedy School of Government, she is the faculty Chair of the Homeland Security and Security and Global Health Projects. She formerly served as Assistant Secretary at the Department of Homeland Security and is a Pulitzer Prize finalists National Security Analyst on CNN and The Atlantic. In between all of these outstanding accomplishments, Kayyem loves to catch some waves as an avid surfer.
Luke Fox, Host, The Trust Revolution had the opportunity to speak with Kayyem on the latest episode of the podcast where she shared some insight on recovering from mistakes as a leader, because as a CEO or a public leader, you will make mistakes. "But if you build trust in your institution in your environment, you will be able to course correct without people thinking, either you're stupid, or ill will, or you are hiding something," Kayyem said.
The COVID-19 crisis has provided opportunities for Kayyem to reflect on how honesty can make a difference for leaders such as CEOs or politicians who have made mistakes they need to answer for. She explained that there is a mythology about crisis and disaster management that expects people to respond to the truth with panic, but that mythology is damaging and untrue. "It's just not the way it works. We've seen this in airline disasters, fires. If people believe that there's competent instruction to help people, they will abide by rules, but they need to have that confidence," Kayyem said.
Latest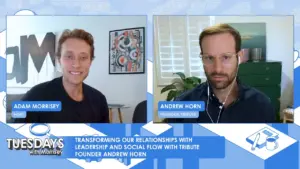 November 28, 2023
Can relationships be transformed through leadership and social flow? Navigating the intricate web of digital relationships can be a tricky proposition. Tuesdays with Morrisey's Adam Morrisey uncovers the transformative impact of emotional recognition in the workplace with Andrew Horn, the mastermind behind Tribute. This podcast edition unravels the story of a platform redefining how […]
Read More