Listen: Bringing 5G to Life with Derek Johnston of Samsung
As the world gets more connected and IoT devices become more comprehensive, the network sustaining them has to be powerful enough for thousands of interwoven devices. Luckily, 5G is on the horizon. Derek Johnston, Head of US Marketing for Networks for Samsung Electronics America, dives in to the capabilities of 5G and how each industry might find use in its powerful bandwidth.
"5G, you know, it stands to kind of transform the industry again by really kind of amping up this throughput, the capacity and the low latency," Johnston said. "in other words the speed in which people would be able to access the internet and get all sorts of new and innovative things. It's essentially like putting fiber in your pocket, if you will."
This updated in wireless networking will have a much larger impact on people than felt just in their cellphones though. The application will have the ability to transcend wireless technologies.
"The interesting thing about 5G is that it really starts to open up new use cases that go kind of beyond mobile networks and things that we can do with our smartphones," Johnston said. "Again, smartphones, the technology has advanced incredibly over the years. With 5G, it really opens up the new use cases and applications that go beyond the mobile network. And that's everything from really energizing augmented reality or virtual reality and the applications that can be done there."
For those not ready to make the switch to 5G, there is still hope. Development on 4G LTE will continue, according to Johnston.
"I think 4G LTE has a lot of life left in it. There has been a continued evolution of the 4G LTE standard to LTE Advanced and LTE Advanced PRO and these new releases that continue to come out have really taken 4G LTE which is ultimately kind of the next generation mobile data network to now expanding that use to IoT-based solutions and other types of kind of networking technologies," Johnston said.
Ultimately, the world will progress into a 5G dominated space, and that may be coming sooner than many think.
For more information on Samsung, log on to https://www.samsung.com/us/.
For the latest news, videos, and podcasts in the Software and Electronics Industry, be sure to subscribe to our industry publication.
Follow us on social media for the latest updates in B2B!
Twitter – twitter.com/marketscale
Facebook – facebook.com/marketscale
LinkedIn – linkedin.com/company/marketscale
Latest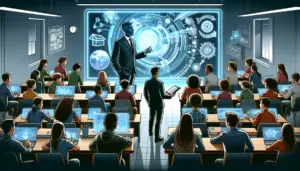 November 27, 2023
In an era where education stands at the crossroads of tradition and innovation, the potential value of thought leadership becomes the guiding star for progress. "Just Thinking" dives into this potential with host Kevin Dougherty and guest Evan Edwards, a Professional Learning Specialist at 806 Technologies who exemplifies the transformative impact of visionary guidance […]
Read More