Pregis LLC Brings Virtual Reality to Packaging Training
Pregis LLC, headquartered in Chicago, is at the cutting edge of not just packaging, but of training people in protective packaging and material selection through the use of virtual reality (VR). Because ecommerce is so distributed, it can make in-person training more difficult; however, VR actually provides universal training regardless of location, allowing for more consistent packaging results. Of course, if a company needs more customized training, the program can be easily altered.
Another advantage of VR is that it trains people more quickly than other methods. According to Packaging Strategies, Clint Smith, product manager, on demand cushioning at Pregis, says that "Several research studies have shown that information absorption is significantly enhanced—as much as threefold–when virtual reality headsets are used." That is why they are using "360-degree virtual reality videos, which run approximately two minutes" to train employees in proper packaging techniques.
Proper packaging is a very important part of any business's production line. Most people probably don't think too much about packaging unless they have trouble accessing the product they want, or the product has been damaged due to poor packaging, or a good product isn't moving off the shelves like it should. These are among the many reasons you shouldn't wait until things go wrong to think about proper packaging. Rather, the time to think about packaging is before your product is even mass produced; that way your product will be easy to ship while well-protected, visually attractive enough to make people want to buy it, and easy to remove from the packaging once purchased. Proper training will ensure proper packaging.
Pregis VR Training incorporates both standardized and customized approaches to training your full-time, part-time, temporary, and seasonal employees to properly package and select materials. And why stop there? Pregis will also proactively monitor your packaging machines with their PX3 software platform to ensure those machines are always up and running. Well-trained employees and constantly monitored and maintained packaging machines—what more could a company want?
Latest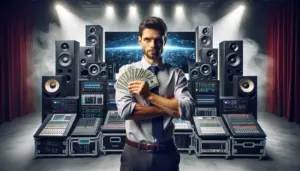 December 8, 2023
Mastering AV sales strategies in a global professional audio-visual (Pro AV) market, poised to reach $79.2 billion by 2028, requires much attention to detail. The surge in demand from corporate, government, and institutional sectors, driven by the need for enhanced productivity and efficient working environments, gives AV sales pros a lot of opportunity. In […]
Read More