Connected World: RF Technology Will Only Continue to Connect Our World
Even if you don't know it, radio frequency technology is part of your life.
Whether it's mobile phones, WiFi routers, remote controls, laptops or other devices, nearly all of them use this type of antenna technology.
That isn't going to be changing any time soon, according to Amos Cheah, Senior Manager, R&D and Product Development Engineering at TE Connectivity. With the 5G revolution already underway, dependence on the technology is set to go through the roof.
"RF technology will be synonymous with 5G technology, so 5G will be a superhighway taking the digital transformation to new heights, and it will be exciting to see the development that comes with it," Cheah said. "I think 5G will bring advances in many areas."
That could include far more Internet of Things devices in people's homes and increase automation in the manufacturing sector. That will increase the demands on the people like Cheah who are tasked with making everything connect seamlessly.
"Within these five years, I think it's safe to say that 5G networks will be up and running, and consumer expectation for mobile speed and performance will be radically higher than today," he said. "The demand for data will continue to rise, and legacy bandwidth ranges will simply not be sufficient to meet these challenges."
Yet, Cheah and his cohorts are looking forward to the challenge, with the new RF technology potentially changing the way we do things for good.
Be sure to subscribe to our industry publication for the latest news, videos, and podcasts in the Software & Technology Industry.
Twitter – @MarketScale
Facebook – facebook.com/marketscale
LinkedIn – linkedin.com/company/marketscale
Latest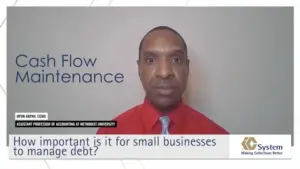 December 8, 2023
Effective debt management through a robust accounts receivable system is essential for small business cash flow and growth, necessitating automated payment schedules and strategic policy adjustments. Collaborating with a collection agency as a strategic partner can enhance revenue recovery while preserving positive customer relationships. How critical is effective debt management for the financial health […]
Read More