Ride-Sharing Giants Yandex and Uber Merge Services in Russia and Neighboring Regions
In the tech world, it's easy to focus on Silicon Valley and ignore the big plays being made in the rest of the world. With home sharing apps, social media platforms, and "smart tech" innovations increasingly emerging from countries outside the United States, it's no wonder that established tech companies have begun turning to the international scene for partnerships.
The most recent example of this phenomenon came to fruition this week as Yandex and Uber announced a partnership valued at over $3.8 billion. Yandex, often referred to as the "Google of Russia," has long hosted a ride-sharing platform known as Yandex.Taxi in a market that Uber seeks to break into. With this merger, Uber is expanding their presence in Russia, Armenia, Azerbaijan, Belarus, Georgia, and Kazakhstan; and the joint venture will be operational in 127 cities.
While the new merger will operate as a single company, for now little will change for consumers. They will continue using either the Uber or Yandex.Taxi app. The driver apps, however, will be integrated so that users of both apps will be paired up with the entire fleet of drivers. UberEATS in the region will also fall under the umbrella of the new company.
The merger is certainly starting out with its best foot forward. Not only is one of the most popular ride sharing companies merging with one of the world's tech giants, but they have a war chest to match. The company has $400 million cash on hand and a team composed of some of the best minds of both organizations willing to wield it in the manner they see fit. Uber contributed $225 million while Yandex invested $100 million.
Now that the deal has been finalized, Yandex is left holding 59.3 percent of the company, followed by Uber with 36.9 percent, and an additional 3.8% divided amongst the employees of the new venture. As ride sharing continues to become more prevalent, particularly in dense urban areas, the group hopes to see a rise in profits coincide with reduced levels of congestion and pollution in the cities they serve.
Latest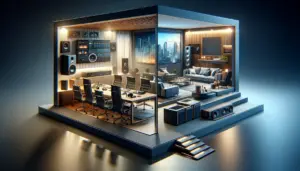 November 27, 2023
In this episode of "Pro AV Today," host Ben Thomas sits down with Audra Kinsley of Sonos Professional to unpack a topic that's causing (sound) waves in the audio industry: the fusion of commercial and residential audio systems. As we navigate through a landscape where consumer and professional audio worlds are increasingly intersecting, Sonos steps […]
Read More