The Impact Of Drones On Security – GSX 2018
It is Aug. 4, 2018 in Caracas, Venezuela. President Nicolas Maduro is giving a speech on stage to a crowd of thousands of civilians, military personnel, and his closest aides, when suddenly—the sound of two explosions ring within seconds of each other from the skies nearby. The source of the explosions turned out to be an unsettling new reality of the advanced technology now readily available around the world. According the the Venezuelan government, the alleged assassination attempt of President Maduro may have included drones loaded with explosives.
A More Connected World
This event marks a turning point in the world of security. Traditionally, companies focus on a ground-up approach when it comes to securing events and locations, but more frequently society will begin to consider airspace, specifically anti- UAV measures, more closely to help protect the most vulnerable people and events in the future.
At this year's GSX Security Conference in Las Vegas, Nev., MarketScale sat down with several companies at the forefront of this new era of security to find out more about the world of drone detection and security measures available in the market today.
Johnny Tseng, an Enterprise Sales Manager at drone security company Dedrone, outlined clearly the concern for customers is the growing sophistication of these UAVs and the detection and mitigation abilities.
"What we focus on [at Dedrone] is gathering intelligence for our customers. The drone threat will grow exponentially, much like the antivirus world. As more come out, more operate on unique protocols. The biggest challenge we face is keeping up with those more sophisticated drones and helping a customer identify a potential threat," Tseng said.
Dedrone itself was founded after a prank was played on German Chancellor Angela Merkel in which a member of the German Parliament was able to fly a drone and bypass every security measure at the event, and land within three feet of the Chancellor. This, according to Tseng, was the company's "ah-ha!" moment.
Improving Your DroneIQ
What drone security companies are doing is developing multi-level platforms that involve UAV, software, and smart data analysis to deliver accurate results and minimize the likelihood of a drone-related security incident. Another company showcasing its services at GSX this year was Asylon. Its multi-tiered platform, DroneCore, was developed with the mindset of leaving no stone unturned.
The system's first level involves the use of drones for security purposes like alarm and automated patrols and daylight/nighttime cameras to ensure a perfect picture of an area being surveyed. A problem with many commercial drone users is dealing with charging and power supply.
The DroneCore system includes a home base station for the drone in which an automated robotic arm swaps out batteries when needed once a drone lands back on ground-level, ensuring the user gets the most out of their UAV.
The final part of the DroneCore system is the software platform, DroneIQ. According to Damon Henry, CEO and Co-Founder of Asylon, this is what brings everything in DroneCore together and provides customers with the most reliable tools from real-time data analysis to remote controlling of the drones and access to that data from anywhere in the world—no matter the location of the device.
What companies like Asylon are trying to gauge in this new world of drone security is, like many, what the ROI will be on these kinds of products. Henry primarily sees use cases for the security sector, but also articulated possible applications in industries ranging from mining and energy to construction.
Capturing Unauthorized Drones
Bruce Carpenter, VP of Business Development for Fortem Technologies, another company investing in drone security, said one of the most difficult parts of engaging in this new world of unmanned aerial vehicles is determining intent—whether it be clueless, careless, or what his Fortem is most focused on; criminal.
"Infrastructure in the sky consists of normal things like checks and balances: in airports, with TSA and bag checks, the toll roads on freeways in terms of payment and how they are monitored along with police. Bring that into airspace, we're going to have to have security. We need drivers licenses, checks and balances on services; determining if a pilot is flying in a registered flight path or going into no-fly zones or uncharted territory," Carpenter said.
Fortem's approach is incorporating radar with Skydome a software program the company developed, which positions radar around an infrastructure and creates a virtual dome around a selected area that can span up to a 5 km radius. Anyone approaching that radius with a UAV will trigger an alert to the security team which deploys a drone to gather additional information.
When the system is working at its best, it can mitigate a threat within 30 seconds of notification within half a mile of the restricted airspace, ensuring the highest priority for the company and its customers is safety.
These three companies are a small blip in the booming drone and UAV industry. As these remote-controlled vehicles become easier to use and cheaper to buy, the need for stronger security measures in major public places will become increasingly imperative. With the help of artificial intelligence, smart data analysis, and a team of motivated and experienced employees, this brave new world does not have to be so scary after all.
For the latest news, videos, and podcasts in the Software & Electronics Industry, be sure to subscribe to our industry publication.
Follow us on social media for the latest updates in B2B!
Twitter – @TechMKSL
Facebook – facebook.com/marketscale
LinkedIn – linkedin.com/company/marketscale
Latest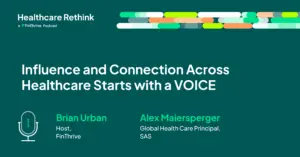 September 29, 2023
In the latest episode of the Healthcare Rethink podcast, presented by FinThrive, host Brian Urban sits down with Alex Maiersperger, the Global Principal Healthcare at SAS. Their conversation charts the role voice plays in influencing and connecting the healthcare industry. Maiersperger, who co-founded the Advancement League, shares his journey from being a healthcare optimist to […]
Read More