There Are Two Sides To Every Data Point
The coronavirus has introduced a new normal, one characterized by working from home and watching the stock market with fear and curiosity. On this episode of "Diving into Data," TC Riley analyzes the numbers surrounding these two prevailing socio-economic topics today. The data is in and it isn't so clear cut. Statistics prove that remote workers and the economy are churning along. But studies also give reason for caution, forecasting possible dangers ahead.
Powered by RedCircle
Remote work is popular among employees, with 74% saying working remotely would make them less likely to leave the company. But conversely, remote employees report feeling disconnected from their team. This consequence may have lasting effects on business, efficiency, and innovation. For high-security jobs, less than 50% of workers feel they have the proper security training to work safely from home. Since coronavirus kickstarted the at-home workday, the US economy is test-driving this new normal, uncertain of lasting repercussions.
The stock market is doing well despite the pandemic, thanks to Big Tech. At 22% of the S&P, these companies are a backbone to the economy. Their power is also what makes them vulnerable. As the government increases scrutiny over companies like Apple, Google, Microsoft, and Facebook, the stock market pauses with bated breath. Meanwhile, self-taught day traders are at home making small investments using apps like Robinhood. Are these users inflating the market, or helping cushion the blow?

Latest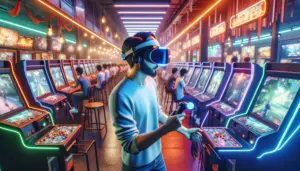 December 4, 2023
In this Pro AV Today soundbite from Dan O'Brien of HTC VIVE, the conversation centered on the significant role of Virtual Reality (VR) and Augmented Reality (AR) in attractions and enterprise applications. O'Brien highlighted the critical need for durable hardware design, tailored to withstand extensive use in location-based entertainment (LBE) operations. Unlike consumer-grade VR headsets, […]
Read More