Touchscreen Technology Guides the Future of How and Where Screens Will Work
Touchscreen technology originated over two decades ago, but it didn't become a regular part of modern life until the introduction of the iPhone in 2007. Technology has evolved at record speed since, and that progression continues to evolve and grow in importance in our daily lives.
Touchscreen technology has evolved significantly in the last 20 years. There are three main technologies in use by contemporary touchscreens. (1) Resistive overlays that deliver moisture resistant protection; (2) Infrared frames that allow for retro-fitting even on stacked display panels; and (3) Projected Capacitive Technology (PCT) that detects touch by measuring the capacitance of each addressable electrode. PCT is the most widely used touchscreen application—when anyone pinches, zooms, flicks, scrolls or any other interaction involving touch, it's possible because of PCT.
Opportunities: The new where and how for touchscreens
Most people interact with touchscreens every day from large video walls to smartphones. Yet, most applications are smaller with interactions happen on the personal level. Because touch is an inherent human sense, expertise is not necessary—simply touch and start—and the user can do most anything. The use of touchscreen kiosks is expected to continue impacting industries globally, including dining, retail, and hospitality.
How touchscreens are increasing efficiency, accuracy, and convenience
Quick serve restaurants are embracing touchscreens. In addition to cashiers taking orders, Panera Bread has been using kiosks in stores for years. Featured in QSR Magazine, Panera claimed that 60 percent of its lunchtime transactions were completed on the touchscreens. In the same article Panera's EVP and Chief Transformation and Growth officer, Blaine Hurst, said, "We're seeing phenomenal results. That's because kiosk-using customers are generally happy customers. They typically get their orders faster and, by a healthy margin, they come back to the restaurant more often."[1]
In 2017, several other restaurant chains, including McDonald's and Wendy's, transitioned to self-service ordering stations. The Washington Post examined why quick serve restaurants are gravitating toward touchscreen kiosk ordering systems, finding four key advantages.[2]
A touchscreen may suggest drinks or sides to pair with an order. This upsell opportunity can lead to increased revenue, simply with a suggestion.
Accuracy is dramatically improved as kiosk ordering places the onus on the customer to define what they want. The Panera Bread kiosks offer a "customize" button for each menu item, allowing consumers the option to add or remove ingredients.
Kiosks reduce the number of frontline staff needed, yielding savings that can be reinvested in other ways.
Kiosks expedite the process. Because ordering via kiosks can be quicker than verbally conveying an order, lines are shorter, allowing employees to focus on making food, not taking orders.
Beyond dining, touchscreens already play an important role in hospitality, allowing travelers to check-in at the airport, rental car provider, and hotel. This offers convenience for users, which grows increasingly important to consumers in today's competitive landscape.
Retailers display touchscreen kiosks as well, and customers do use them. A Forrester study found that 74 percent of consumers who have used an in-store kiosk report that these tools are "useful."[3] But what's next for touchscreens and the customer experience?
The future of touchscreens in the customer experience
Retail's potential opportunities go beyond helping shoppers find products. Touchscreens could:
Introduce new products: Engage customers with new product images, reviews, or specifications.
Offer advice: Grocery stores or beverage retailers could use touchscreens to provide options for shoppers related to things like cheese and wine pairings. The kiosk could be interactive, allowing shoppers to plan a menu.
Answer questions: Customers may not be able to find staff and need help. A kiosk is an easy way to search for help without having to track down an employee.
Retailers may soon also be able to use more flexible small screens that are foldable or just over all more durable. In a retail environment, these can be advantageous since they are prone to wear and tear.
Just as service is critical in the retail industry, it's just as important in hospitality. Hospitality can leverage touchscreen technology to further improve experiences. Hotels can offer touchscreens for simple things like check-in or information on attractions or excursions.
When they find something they like, they can book it immediately.
Stadiums and venues also present another market for touchscreens to emerge. If venues want to elevate each fan's experience, then touchscreens will offer this in a scalable way. With touchscreens integrated into seating, spectators can customize their experience by controlling their camera angle, rewind or fast-forward replays, and even order their next beverage or snack.
Technology changes how we interact in the world
Most every daily interaction has been changed by the power of technology. Touchscreens are no different. From restaurants to retail to entertainment, touchscreens are changing the game. At Mimo, we are part of this change. We offer touchscreen solutions that solve challenges. How can we solve yours? Explore the many ways you can use touchscreens.
Read more at mimomonitors.com
[1] https://www.qsrmagazine.com/ordering/kiosks-keep-their-cool
[2] https://www.washingtonpost.com/goingoutguide/why-you-may-soon-be-ordering-lunch-on-a-touch-screen-kiosk/2017/03/01
[3] ttps://www.forrester.com/report/Consumer+Usage+Of+Kiosks+And+SelfService+Checkout+Tools/-/E-RES55827
Latest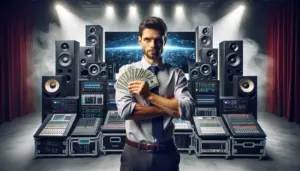 December 8, 2023
Mastering AV sales strategies in a global professional audio-visual (Pro AV) market, poised to reach $79.2 billion by 2028, requires much attention to detail. The surge in demand from corporate, government, and institutional sectors, driven by the need for enhanced productivity and efficient working environments, gives AV sales pros a lot of opportunity. In […]
Read More